When Clare Verrall, from the second season of Married At First Sight watched Tuesday night's finale, she didn't hold back.
She shared her thoughts with hundreds of her Twitter followers, calling out the show for failing her and her fellow contestants and setting them up for entertainment reasons, rather than love.
"Well that was an absolute shitshow from start to finish. @Channel9 should be ashamed. We wanted love stories not manufactured drama," she tweeted.
Two days on and Clare still isn't holding back, telling Mamamia that she just wants Australia to know the truth about what happens behind the scenes of the show.
"I just want people to know what really happens. I don't want anything out of it. I'm never going on reality TV again, I'd rather stab myself in the eye with a fork," she says.
"It's more for everyone else [on the show]. I'm just someone who speaks my mind. I don't like being screwed over and I don't like being lied to. I just think the fact they've continually gotten away with [exploiting people] is disgusting."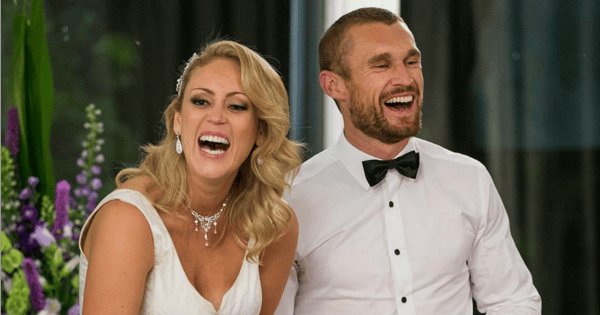 Clare believes that both in her season and the latest season to go to air, contestants were deliberately mismatched to create more drama.
"People say reality stars should know better. But I had no idea, I genuinely went into this thinking I was going to find love because they said so. And then I came out of the 'experiment', clawing my way out as a broken, crying, half-person," she says.
Speaking from her own experience with Jono - a man with problems with agression who was set up with Clare, who was overcoming PTSD after a random attack by a man on the street - showed her that she had been exploited by producers.
"[Jono and I] had to film a fake break-up scene, and they told me we would go separately and have separate accommodation. That's the only reason I agreed to go. But I get there, and they didn't have separate accomodation for me," she says.
"Me, off crying in a bush, was nothing to do with Jono. It was more they didn't do what they promised it. I was like, 'I am scared of this man, what don't you get?' I didn't feel safe!"
Since coming forward with her claims, Clare says fellow Married At First Sight stars have contacted her, offering their praise.
"They've been contacting me and saying thank you for finally being the one to say it," she says.
It's no surprise that Clare says she regrets agreeing to appear on the show.
"It hasn't been my greatest decision, that's for sure.
"Absolutely I regret it. If I could go back in time, I wouldn't act differently [on the show], I just wouldn't do the show because I didn't realise it was a crock of shit."