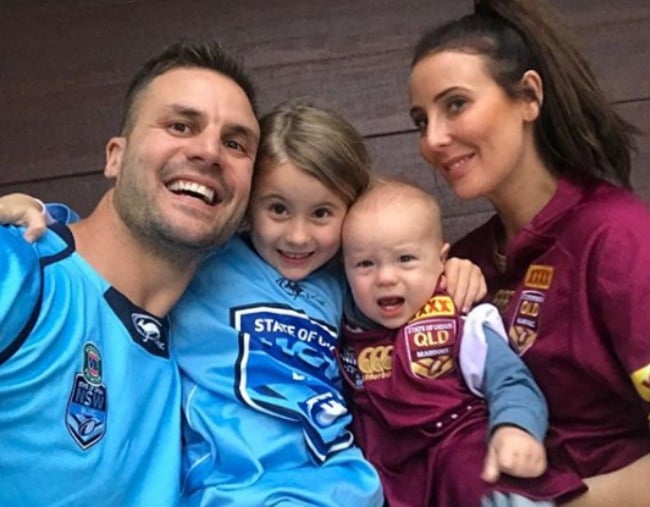 In 2015, Beau Ryan's relationship with his wife, Kara, reached breaking point.
The high profile former NRL player was publicly outed for having an affair with former Hi-5 star, Lauren Brant.
Brant's former fiancé, Warren Riley, went public with the accusation during an interview with Woman's Day magazine.
During a candid conversation on News.com.au's Ball's Deep podcast this week, Ryan, 33, spoke about what led him to that moment.
"When I retired I was very self absorbed and focused on working and providing," Ryan told the podcast.
"We spent a lot of time apart, and in 2014/15 I was working my a**e off but I wasn't connected and I wasn't really connected to anyone."
The former Sharks player said "doors were opening left, right and centre" for him, but he was shut off from his personal life.
"I was in my own little tornado. I needed to take a step back and something needed to happen… and something did."
Ryan and Kara, who was his high school sweetheart, managed to weather the media storm and remain together.
They have two children a five-year-old daughter named Remi and an 11-month-old son named Jesse.
The retired NRL player believes that period in his life shaped him into the man he is today.
"Kara has been through everything with me… we've been together for 15 years. We've had so many good and bad times. But to hurt her, and to know what it's going to do to my family, I would never put them in that position again."
The Footy Show star explained that before they had Remi, Kara had her own hairdressing business.
They made the decision for her to sell the business and become a full time mum and, in hindsight, that was the wrong move.
"I come from a blue collar area where the dad is either in the mines or steelworks, and the mum looks after the kids and that is the way it is," he said.
"My priority is my family… but it actually wasn't because I wasn't allowing her to chase her dream."
After the affair made headlines in 2015, Ryan issued a public apology on The Footy Show.
"I want to apologise to all the people who have been hurt recently," a grim-faced Ryan said on the Channel 9 show.
"It's been really really hard for myself and my family, everyone involved."
But the television host and former sports star kept his statement brief, thanking everyone for their "support" and "respect" for his privacy before changing the topic.
You can listen to the full interview here.