I've always had a thing for feet.
Foot fetish? Not quite. My fascination with feet is specifically shoe related.
I have difficult feet, you see. Long and thin, I have extremely high arches, and toes that give E.T. a run for his intergalactic money. Since a child, I have struggled to find shoes that fit me properly, and learnt early on that anything involving velcro, multiple buckles, or shoelaces was my friend.
You can only imagine how cool I looked.
As is often the case, these difficult feet have walked me into adulthood, where they continue to cause agony. Havaianas? Can't walk in them. Cute slingback pumps? Forget about it. Strappy stilettos? Only doable if I remain stationary.
I can't believe I'm doing this, but…
Here are my feet.
Yes, I know.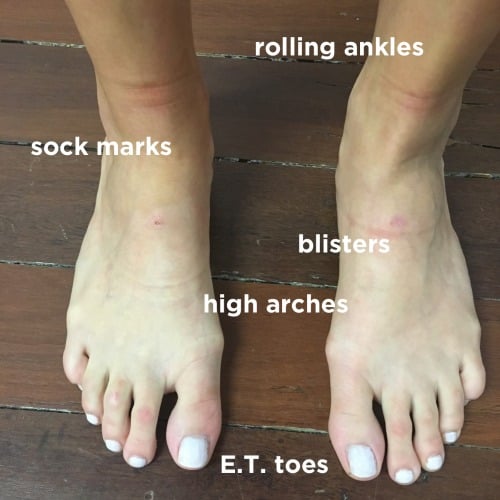 HIDEOUS.
I went to see my hero yesterday, Dr Trent* the podiatrist. The blessed Golden God Of The Foot that he is, Dr Trent knows all about difficult feet, and has nursed my trotters back to health following a running injury that persisted throughout last year.
Without getting into too much detail, my daily 7km runs started tearing the muscle from the bone on my foot - all thanks to my crap running shoes. (Hint: they rhyme with 'bikie tree bums'.)
"Maggie, you need you need proper arch support."
"Yes, Dr Trent."
"So why do you keep wearing these shoes? You may as well wear nothing on your feet."
"But..."
"No buts."
"But!"