In the car, almost certainly, there would have been the conversation every parent has had with a child at a moment of moving forward.
"Be careful at parties, be safe when getting into cars, take care with boys, be wary of alcohol and drugs. Call us whenever you need. Have fun, be yourself, don't lose yourself. Call us at anytime of the night if you have to. Don't let anyone give you a hard time. Call us… Please don't forget to call us."
It's the age-old conversation lucky children receive from parents when they're going off to university, or moving to a new city, or graduating high school.
This year, it was former President of the United States Barack Obama's turn to have it with his eldest, 19-year-old Malia, who started college in August.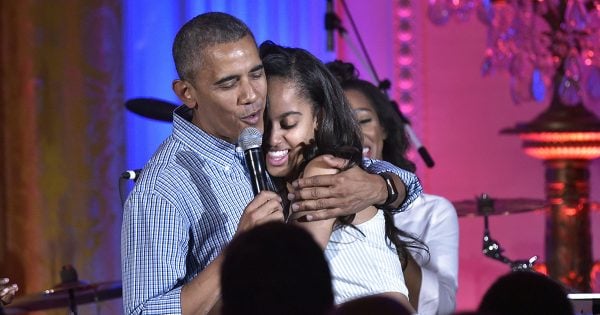 "For those of us who have daughters, it just happens fast," Obama told a crowd of people of people at a reception for the Beau Biden Foundation for the Protection of Children in Delaware on Monday, WDEL reports.
"I dropped Malia off at college and it felt a little bit like open-heart surgery."
He and former First Lady Michelle Obama left Malia at Harvard University's Cambridge, Massachusetts campus.
Madonna King's advice for raising awesome women. Post continues below.

The 19-year-old is starting one year later than many of her peers, after taking a gap year to spend time interning in the film industry and holidaying with her family.
"I was proud that I did not cry in front of her but on the way back, the secret service was looking straight ahead pretending they weren't hearing me as I sniffled and blew my nose," Obama continued. "It was rough."
The former president spoke at the event alongside former Vice President Joe Biden, who started the Beau Biden Foundation to honour his late son's legacy of "protecting the most vulnerable" from abuse.