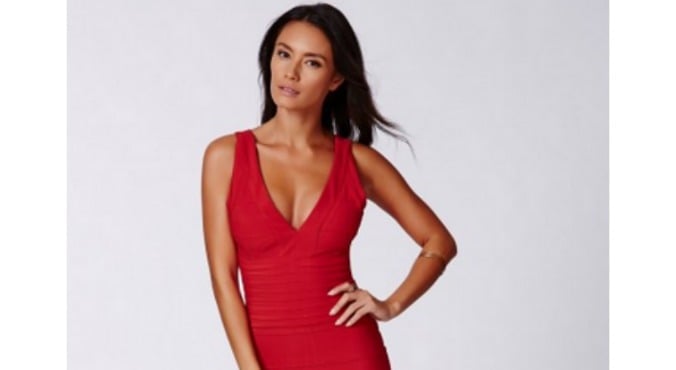 Image: the life-saving bandage dress from MissGuided (woman pictured is not Zoe Turner)
There are few items of clothing more divisive than the 'bandage dress'.
Some women love the form-fitting, cleavage-enhancing style, claiming it's like a pair of Spanx for the whole body. Others view the dresses as the sartorial equivalent of sausage casing. Meanwhile, celebrities have been obsessed with them for about four years now:
Celebrities wearing bandage dresses
Regardless of which side you stand on, the one thing none of us ever suspected of the bandage dress – despite its name – was that it could have life-saving properties. In fact, you'd think such a figure-squeezing design would be more harmful than helpful.
But here's some news for the bandage dress detractors: there's a young woman in England who reportedly owes her life to one.
According to The Telegraph, University graduate Zoe Turner was heading home after a Christmas party on December 14 when a cement mixer struck the taxi she was travelling in, critically injuring everyone inside. The driver broke his neck, while Zoe's three friends in the back seat were left with broken arms, eye sockets and pelvises.
Zoe, who was sitting in the front passenger seat, suffered a broken sternum, a fractured pelvis and a fractured vertebrae. However, it turns out her injuries could have been far more serious – fatal, even – were it not for the clingy red bandage dress she'd chosen to wear that night.
"The doctors told me that if I hadn't worn such a tight dress, which held in place my bones as the car impacted, I would have most definitely punctured vital organs as my bones went out of place," the 21-year-old tells The Telegraph.
As it was, Zoe spent five days in hospital. Initially she couldn't move her legs and was convinced she'd never walk again, but she was discharged on December 18 – just in time to spend Christmas at home.
At just $66AUD, Zoe's bandage dress (which can be ordered from MissGuided here) proved to be a priceless fashion choice.
"I am lucky to be alive, the thought of not having worn that dress makes me shudder. That £35 was honestly the best I've ever spent. I'll never forget that red dress – it's just a shame it didn't survive too!" she says.