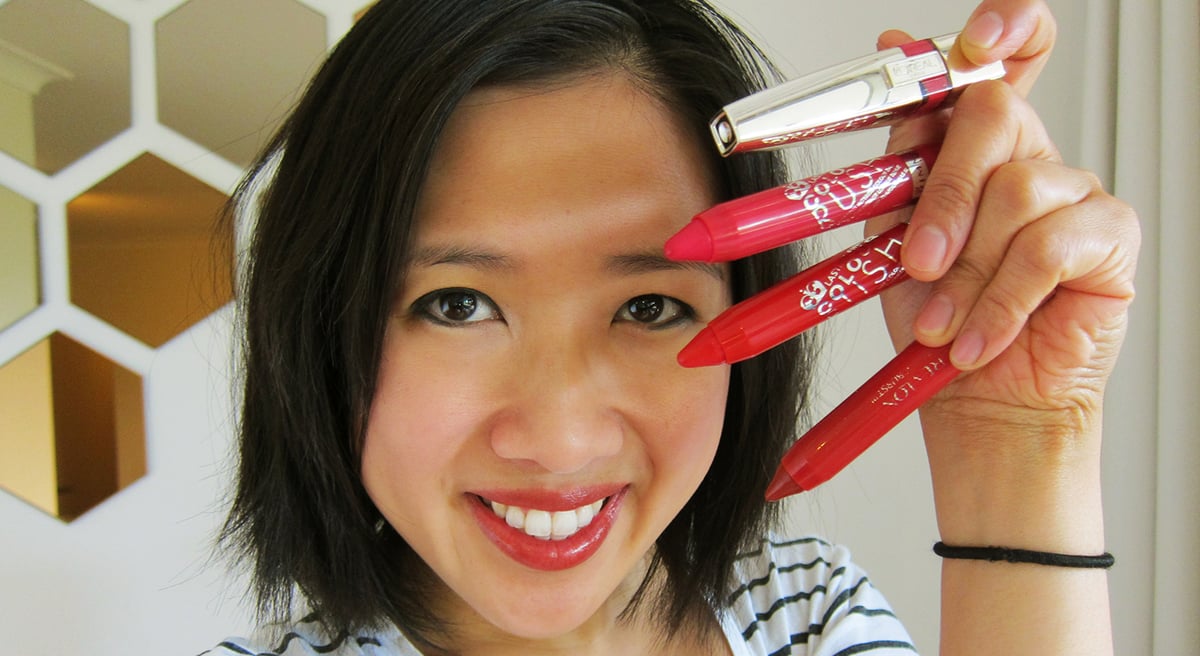 Image: Supplied. From top to bottom: L'Oreal Shine Caresse Lip Colour, Rimmel Lasting Finish Colour Rush Intense Colour Balm, and Revlon Colorburst Balm Stain (also worn on lips, in Romantic shade). 
Like Brad and Angelina, the balm stain is one of those obvious combinations that should have existed since the dawn of time. It combines the best of both worlds: the subtle, sustained colour of a stain with the moisturising benefits of a balm.
Related: Coffee trial: how do long-lasting lipsticks really stack up? 
And I love it, for two reasons: I'm lazy, and I'm hungry.
With a good balm stain, the colour and moisture stays put for most of the day, which means less time spent preening, and more time for living. And by living, I mean EATING without worrying that you're also consuming your lip colour.
Related: 15 women on their favourite shade of lipstick. 
 Rimmel Lasting Finish Colour Rush Intense Colour Balm
I've said it once and I'll say it again, Rimmel make my favourite budget-brand lipsticks, and their balm stain did not disappoint. This is the balm stain that I use most frequently in my everyday life. It's also the cheapest, at $12.95, so even your wallet's a winner.
This baby packs a huge colour punch. One application of this opaque goodness, and you're done. The satiny finish gave my lips the illusion of volume. The product comes in wind-up crayon packaging, which is perfect for doing some Kylie Jenner-style overdrawing.
Does it stain? Yes! I applied two layers of this balm stain at 11:30am, and by 2:30pm, the colour was still going strong, even after a serious yum cha session. By 8:00pm, and after even more eating, there was still a hint of colour on my lips. The colour wears down a little unevenly, but with a quick slick of Carmex lip balm ($5.99), it looked fresh again.
Related: The cling wrap weight loss trend that's as dangerous as it is bizarre.