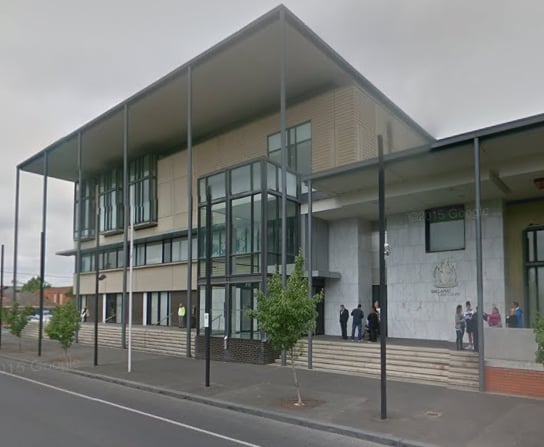 Trigger warning: This post includes graphic details of child sexual assault and may be triggering for some readers.
Phillip Nagle is just one of countless victims of a paedophile ring operating in the regional Victorian city of Ballarat during the '60s and '70s.
He was also the first of five victims called to give evidence at the Royal Commission into Institutional Responses to Child Sexual Abuse, which began its first public hearings in Ballarat this week.
While each account was disturbing, one faded old picture displayed by Mr Nagle to the courtroom perfectly encapsulated the torment caused by child sex abuse.
Holding up the black-and-white photograph, 50-year-old Mr Nagle told the court: "I have a photograph of my Grade 4 class at St Alipius. There are 33 boys in that image. Of the 33 boys in that image, I know that 12 are dead.
"I believe they committed suicide."
Mr Nagel told the commission he was first abused by convicted paedophile Stephen Frances Farrell in 1974.
He was just nine years old when Farrell, a Christian Brother, wrestled him to the ground and removed his pants in the school first aid bay.
"He pulled up his black gown and removed whatever he was wearing underneath. He was trying to penetrate me as I continued to struggle," Mr Nagle recounted in his witness statement. "I was all wet between my legs and I now realise that he had ejaculated on my anus and genitals."
Brother Farrrell went to abuse nine-year-old Nagle in a classroom library, placing an arm across the boy's "throat so that (he) was choked and struggling to breathe".
The abuse continued elsewhere on campus and on school camp in the Grampians; Brother Farrell even visited the Nagle family home in nearby Bunding, where a young Nagle witnessed the man sexually assaulting his brother.
"I have no recollections of grade six, only recollections of the sexual assaults and being scared all the time," Mr Nagle told the ABC of that dark period of his life. "I would know when an attack was coming because he would always remove his glasses first. "
Mr Nagle said his childhood innocence meant it was not until later in life that he realised the crime was wrong and unusual.
"After I was sexually abused I came to think that was what all adult males did to children," he said in his witness statement.
He added in an interview with the ABC: "We didn't actually know what was happening to us, but certainly when you look back now, you just think: how can so many evil Christian Brother paedophiles be in one place at the same time?
"All the baddies were there at once."
In one poignant moment during Tuesday's hearing, Mr Nagle paid tribute to the memories of the 12 classmates driven to take their own lives.
"I would like all those here today to take some time now to reflect and remember our classmates; our classmates who could not come to terms with the trauma and hurt caused by the abuse they suffered; our classmates who took their own lives to end their suffering," said his statement, read out in court.