A woman injured during Saturday's tragic balcony collapse in northeast Melbourne says she is "devastated" to have lost two friends in the Christmas party accident.
The victims, a 59-year-old Croydon woman and a 37-year-old Reservoir woman, were among 30 people believed to be crammed on to the Doncaster East balcony when it gave way beneath them.
According to 7 News the party-goers – Tupperware sales consultants – were attempting to take a group photo when the incident occurred.
Attendee Casey Leerentveld posted on Facebook to thank everyone for their concern.
"Just wanted to let all know I'm OK," she wrote on Sunday night.
"Dislocated knee, fractured heel and lots of glass in my legs to be removed. Still in shock and absolutely devastated at losing two wonderful friends and colleagues in this tragedy."
The balcony collapse prompted a major emergency services response with police, firefighters and paramedics swarming to the "chaotic" scene, as neighbours did what they could to help the injured.
"The crash was biblical, the sound of it was just like nothing I've heard before," local resident Andrew Stone told reporters at the scene.
"People were bringing out chairs, and pillows and blankets and things like that just to help out the people who were injured."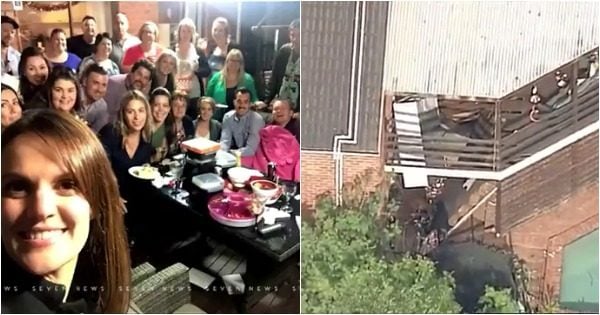 Ten women and seven men, aged between 20 and 69, were taken to hospital with soft tissue injuries, fractures and lacerations.
"This is a very tragic incident for those involved and our thoughts are with them and their loved ones at this time," Ambulance Victoria's state health commander Paul Holman said.
Police are investigating and will prepare a report for the coroner.
- with APP.