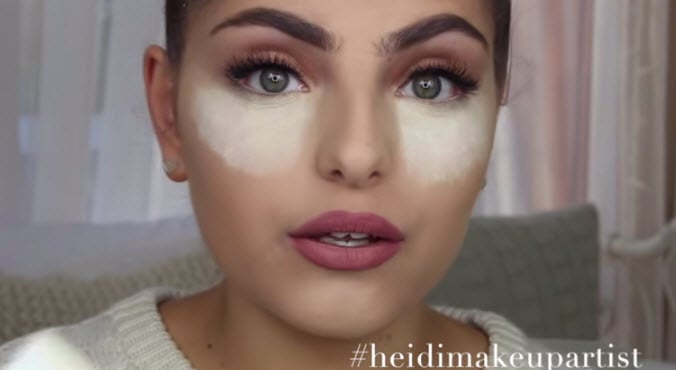 Image via Youtube (@HeidiHamoud).
Recently, contouring, highlighting and strobing have taken over the beauty world, but now there's a new makeup technique infiltrating our instagram feeds (and makeup bags).
So say hello to "baking": the trend that's got nothing to do with cupcakes or the kitchen and everything to do with making your makeup as long lasting and flawless as possible. And at a first glance, it looks pretty weird.
RELATED: Laters, contouring: Strobing is the new way to flatter your face
"It's essentially a technique to highlight areas of the face and amplify the coverage and lasting ability of makeup," explains Clint Dowdell, brand ambassador and in-house makeup director for Nude By Nature.
"It works by applying a thick layer of setting or highlighting power to the areas you want to accentuate and letting it 'bake' onto the skin for five to ten minutes." (Post continues after gallery.)
The theory behind the technique is that the "cooking" time allows the makeup to melt into the skin and set more flawlessly compared to simply applying a small dusting of powder.
How to achieve it.
To start off, Dowdell says to apply your foundation and concealer as normal.
"Then, with a damp sponge or beauty blender, apply a generous amount of setting powder under the eye area, jaw line, chin, bridge of the nose, cupid's bow and a little on the forehead," he says.
Leave the thick layer of powder to "bake" onto the skin for five to 10 minutes, then dust off the excess and continue to contour or finish your makeup as normal.