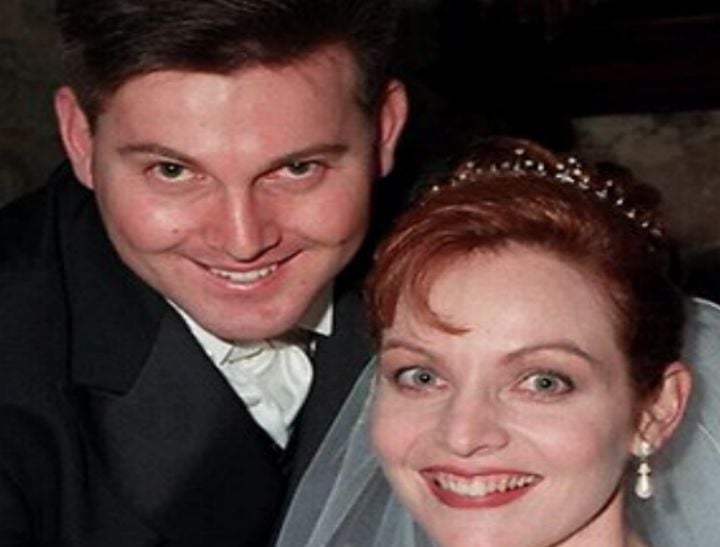 We've rounded up all the latest stories from Australia and around the world – so you don't have to go searching.
1. Gerard Baden-Clay will today launch his bid for freedom with an appeal that his murder conviction should be quashed.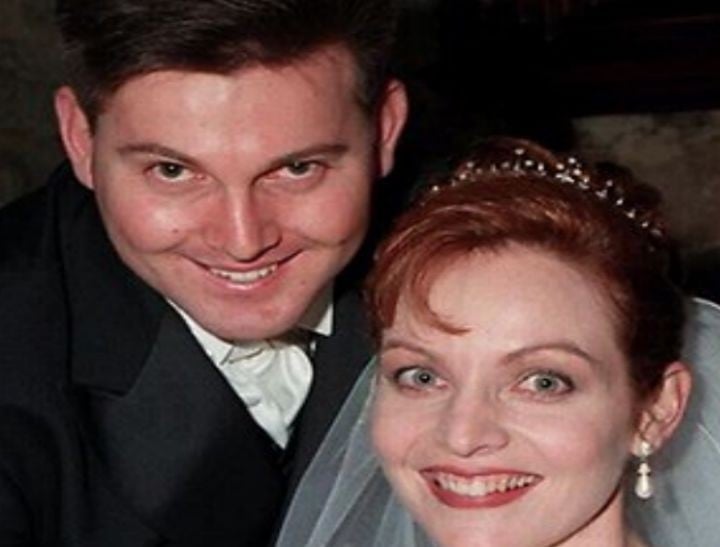 Convicted murderer Gerard Baden-Clay will today appeal his conviction for murdering his wife Allison. Baden-Clay's legal team will argue that the trial judge erred in his instructions to the jury on crucial pieces of evidence and he suffered a miscarriage of justice.
Last year the former real estate agent was found guilty of the 2012 murder of his wife Allison.
He was sentenced to life in jail with a minimum non-parole period of 15 years.
He has always claimed he is innocent of the horrific murder.
Baden-Clay's legal team claims that trial judge Justice John Byrne misdirected the jury about a crucial piece of evidence that led to his conviction – the injuries on his face.
The Courier Mail reports that the prosecution alleged Baden-Clay cut his right cheek with a razor in a failed attempt to disguise the scratch marks his wife had left on his face while struggling with her husband.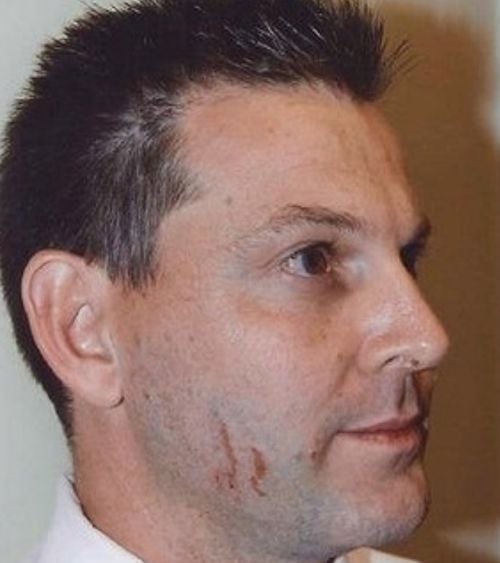 "The trial judge erred in leaving to the jury that the appellant attempted to disguise marks on his face by marking razor cuts." the claim says.
During the trial four forensic experts told his trial the abrasions were more consistent with fingernail scratches.
The claim also says that Justice Byrne erred in the directions he gave relating to the discovery of Mrs Baden-Clay's body on the banks of Kholo Creek, as well as the presence of her blood in her husband's car.
"A miscarriage of justice occurred because the jury should have been, but was not, directed that the presence of the deceased's blood in a motor vehicle was only relevant if the jury was satisfied beyond reasonable doubt that the presence of the blood was attributable to an injury sustained to the deceased's body on the evening of 19 April 2012, or the morning of 20 April 2012," the application reads.
Earlier this year it was reported that the three daughters of Gerard and Allison are unable to access their mother's life insurance policies valued at nearly $800,000, until their father exhausts his legal avenues to have his conviction overturned.
Allison's family are expected to attend court this morning.
2. Mental health crisis facing our youth.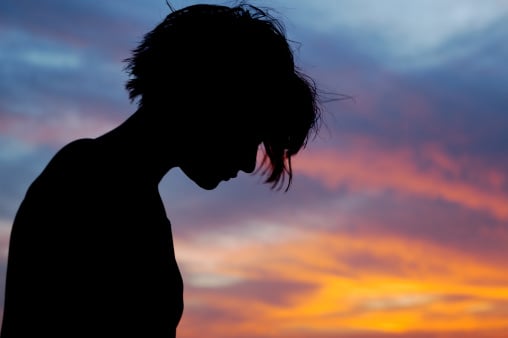 A ground-breaking study has shown that as many as one in 10 children, some as young as four, have mental health disorders.
The research, the biggest of its kind in Australia shows that 560,000 children experienced a mental health disorder in the past year.
One in 13 children aged between 12 and 17 have seriously considered suicide.
One in 20 had already picked a place to do it.
Fairfax Media reports that the unique study spoke to parents and children separately. It found that while only 4.7 per cent of parents indicated their children had a major depressive disorder 7.7% of children said they did.
The chief investigator on the project, Associate Professor David Lawrence, said "There is a group of teenagers who are telling us they are going through a period of significant distress, and their parents aren't aware of the full extent of it in all cases,"
The study showed that since 1998 fewer children today had ADHD, but more had depression.
For help: Kid's Helpline: 1800 55 1800.
2. Man and woman found dead in car.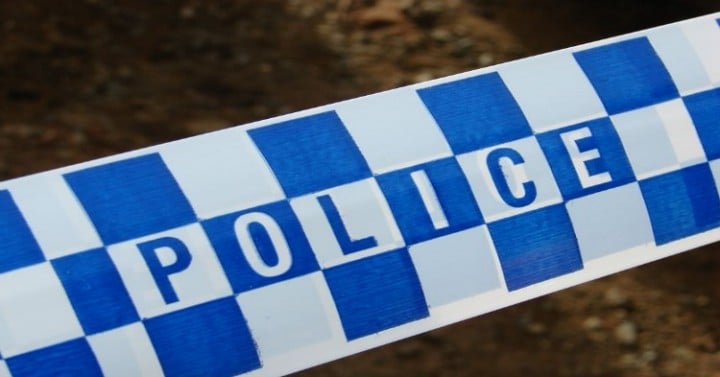 Police are investigating the death of a man and a woman found in a car in Melbourne's northwestern outskirts.
A council worker found the man in his 50s in the front passenger seat of the Ford Falcon in a gravel Lover's Lane in semi-rural Plumpton outside Melbourne yesterday. It is unclear how long the car had been there.
He had fatal gunshot wounds to his upper body and a long-barrel firearm was beside him.
A woman was deceased on the back seat.  It is suspected the case a murder-suicide.
Autopsy results are due back today.
For help: Lifeline 13 11 14. DV and Sexual Abuse hotline 27/4: 1800 737 732
3. Police locate two-year old Oliver.
QLD Police have found a two-year old boy taken by a man around 2pm yesterday near Cairns.
Yesterday police put out an alert saying the two-year old had been abducted by a man known to him.
Early this morning a police spokesperson said:
"The Queensland Police Service have recently located the 2-year-old boy who was abducted from Edmonton around 2:05pm yesterday in Cairns.
Police would like to thank the media and the public for their assistance."
4.  Claims an MH370 window found on Reunion Island.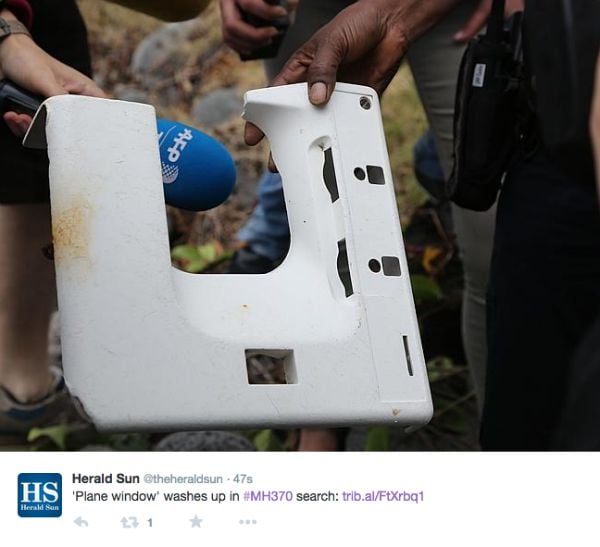 There is confusion for relatives of those missing on MH370 with mixed messages coming from international experts.
Overnight Malaysian experts said that they are confident a window and other debris found on Reunion Island are also from missing Malaysia Airlines flight MH370.
Malaysia's Transport Minister Liow Tiong Lai told reporters that other plane debris including a window and some aluminum foil were being analysed in France.
"I can only ascertain that it's plane debris" he said.
But to make things confusing France have said they do not have the additional pieces and the Paris prosecutor's office and multiple French officials involved in the investigation in Reunion and in Paris said they were unaware of a new discovery.
Yesterday there was further anxiety for the families when the Malaysian Prime Minister Najib Razak announced that a flaperon, came from the aircraft, but authorities in France, the U.S. and Australia stopped short of full confirmation.
Australian Transport Minister Warren Truss said that Australia respected Malaysia's right to make that call, given that it is in charge of the investigation.
"Of course, there is still some I's not dotted and T's not crossed. There is still a very small element of doubt," Truss said.
5. Gable Tostee takes to social media again.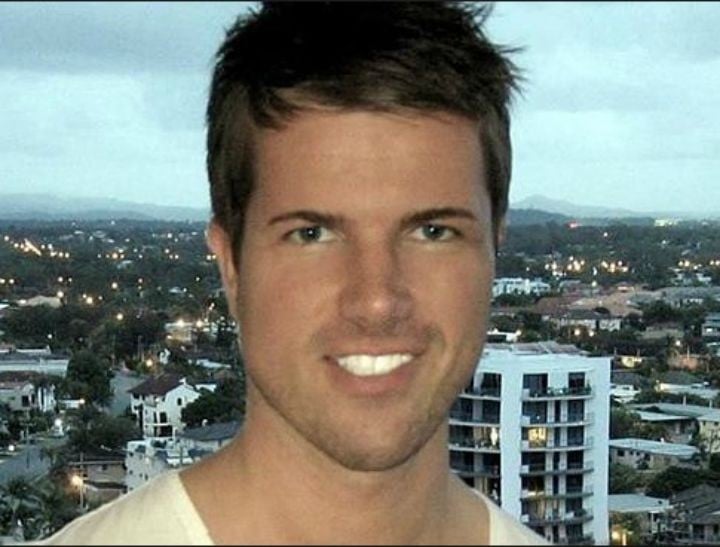 Accused balcony killer Gable Tostee has taken to social media again this time claiming that Warriena Wright fell while attempting to get to the balcony below after he locked her on the balcony for his own safety.
Ms Wright plunged to her death from Tostee's 14th-floor Surfers Paradise balcony in August last year.
He wrote on Facebook that the prosecution's argument that he "violently assaulted" Ms Wright was "entirely concocted and unsubstantiated by evidence".
"In fact the opposite is true — I was the one being repeatedly assaulted, and I did what any sensible person would do by disarming her and separating myself from her,'' he wrote.
"That she would immediately and without warning attempt to swing off the sheer face to the balcony below, a feat probably not even the world's most skilled acrobats could achieve, is not something … I should be held responsible for.
"I understand that when a tragedy occurs it is natural for people to want to blame someone, but … I feel the utmost sympathy for the deceased and those close to her.''
Tostee is due to face a committal hearing on September 30.
6. Australia suffers an Ashes humiliation.
It's almost too hard to read isn't it. So lets just go with this:
The Aussies were bowled out for 60 their lowest score since 1948 and their equal-sixth worst score in Test Cricket history.
Maybe this will sum it up for you: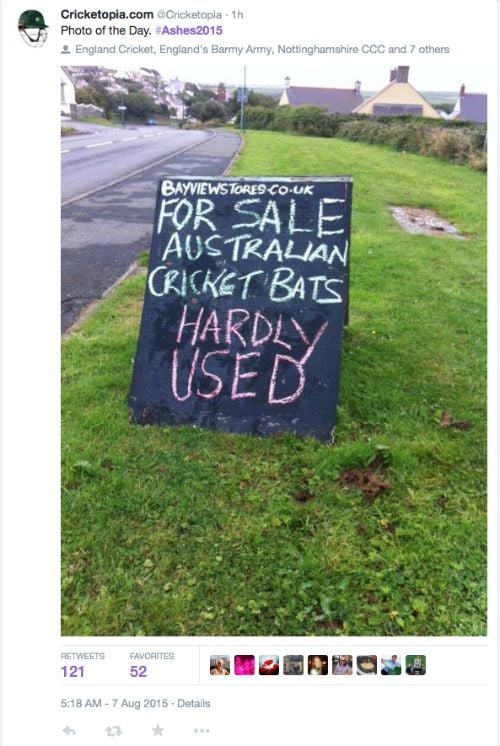 7. Why finding childcare spots for babies is going to become even harder.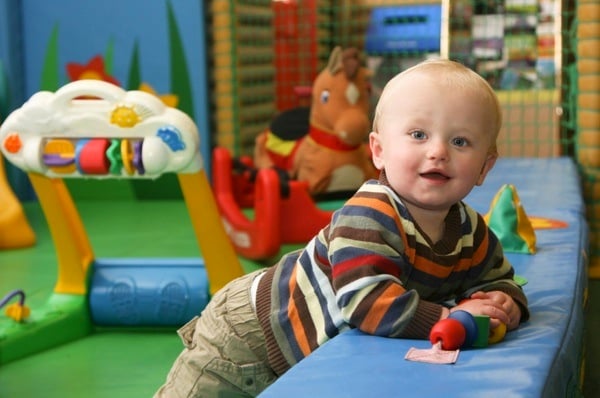 If proposed changes to parental leave entitlements, so called "double dipping" go through one lobby group has warned that an unexpected consequence might be that childcare places for the under ones get even harder to find.
The Parenthood have put forth a submission saying that demand for the 0 to 1 group is going to get even tougher as more mums go back to work earlier.
"Parents are already struggling to find a childcare place for their 0 to 1 year olds, with demand outstripping supply for many nursery places across Australia's long day care and family day care sector," The Parenthood's executive director Jo Briskey said.
"It is expected that by forcing mums and dads back to work sooner than planned, this will increase demand and place significant added pressure on an already stretched system,"
8. Husband shocks wife by presenting her with her own positive pregnancy test.
A man in the US has shocked his wife by presenting her with a positive pregnancy test, rather than the other way around.
Husband Sam used a urine sample from an unflushed toilet that Nia had peed in earlier that day. He wanted to see if he could find out first then surprise her with the good news.
The test came back positive – and of course they filmed the happy moment and posted it to YouTube.
To be extra safe the test wasn't incorrect due to water dilution from the toilet, Nia takes a second test at the end of the video and finds out she is indeed pregnant.
See for yourself:
Do you have a story to share with Mamamia? Email us [email protected]
[post_snippet id=324408]