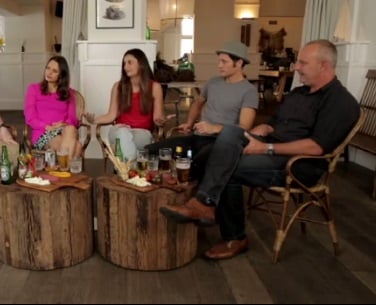 Dating can be fun, but it is also pretty hard and at times awkward. You usually have to go on multiple bad dates. So when you finally find someone who you can stand for longer than two drinks the world becomes filled with sparkles, unicorns and fairies.
Some relationships have an expiry date though. In other words, they get bad. Real bad. Like when they call you crazy for being upset they slept over at a girl's house after a night out. Or when they tell you that you shouldn't be so…so…well…you. Or that they haven't loved you for the 6 months of your 9 month relationship.
At Watson's Bay Boutique Hotel, six Mamamia personalities grab a few beers and question whether you have to have a bad relationship before you find a good one.
  Supported by Lion. 
Have a beer on us! 

The wonderful people at Watsons Bay Boutique Hotel are giving one lucky reader a $100 voucher. Comment below and let us know which one of life's little problems you are going to solve over a beer with friends for your chance to win! (Sorry under 18-year-olds, your entries aren't considered eligible – for obvious reasons.) 

 
Missed an episode? SEE more from our favourite Mamamia personalities here:
Episode 1
 – Is social media making us anti social?
Episode 3
 – Are celebrities positive role models?
Episode 5
 – Gen x Vs Gen y – which gen is better to work with?