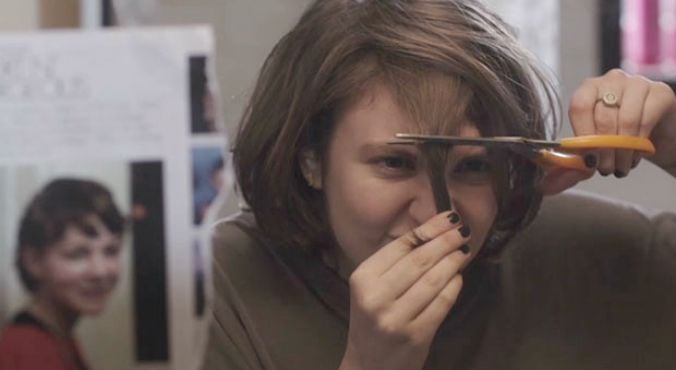 Image: Oh, you've decided to take the DIY route, have you? (Image: HBO).
We all have good hair intentions. 'From tomorrow, I'll stop picking at my split ends,' we promise ourselves, mid-pick.
Unfortunately, good intentions don't always translate into good behaviour — and as a result, we're all probably doing things every single day that are making our hair unhappy. Here, Australia's top hair stylists and colourists reveal the hair habits that make them despair.
1. DIY trims and split end snips.
Ever reached for the kitchen scissors at the first sight of a split end? Yeah. Don't.
"It can ruin your perfectly-shaped haircut, and when you go back to the salon you'll need to get more cut off to take it back to a balanced haircut," explains Shane Crow, Senior Stylist at Headcase Hair. Even if you're trying to grow out your hair, Crow recommends a trim every eight weeks — you'll maintain the shape without those little white ends.
RELATED: How often do you really need to get your hair cut?
Same goes for DIY trims. According to Uros Mikic and the team at Kinky Curly Straight (KCS), women with curls are especially prone to cutting their own hair between appointments because they think their ringlets will disguise their efforts. This isn't the case, so shop around for a hairdresser who can meet your needs. "They are out there, but you might need to talk to a few people and read a few online reviews to find them," Mikic says.
2. Coming to a colour appointment with dirty hair.
Hands up if you rock up to the salon with greasy hair because you figure it'll only be shampooed anyway? You might want to rethink that if you're getting your colour done, as dirty hair can impact the results.