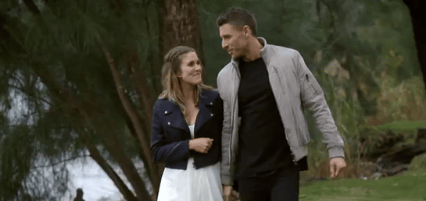 Despite being a truly, truly awful singer, The Bachelorette's Lee Elliot is currently number one on Channel 10's love leader board and it's not hard to see why.
Hi, Lee.
Once crowned Victoria's Hottest Tradie (seriously), the 35-year-old mechanical plumber is miles ahead of the competition with a 46 per cent chance of taking this thing home.
But it's not just his penchant for dad jokes, his pet donkey or the fact that he looks like an OPSM model, which has everyone tipping Lee as The Future Mr Love. There's also a mounting body of evidence to support the rampant speculation.
Now, there's some rather enormous spoilers coming so just to be clear: THIS IS YOUR OFFICIAL SPOILER ALERT.
Proceed no further if you don't want to know any more.
I repeat: DO NOT PROCEED BEYOND THIS GALLERY OF PICTURES OF LEE'S PERFECTLY CHISELLED FACE.