In last night's episode, Georgia Love checked her watch and decided "Oh, oh I don't have any more time for bullshit" and sent half the guys home.
Ten became six, and because she's had to stomach the Sam's and Rhys' of the world for far too long, she plans to spend the next few weeks being worshipped by handsome men who a) know/care that she exists and b) don't fake broken arms for attention.
The 'oiz are sitting in the mansion talking about who will get the next single date and it's an extremely compelling situation. We're on the edge of our seats as they argue "I think it will be you…" "Nah, mate, I think it will be you." Why don't we all just wait for Osher to tell us rather than speculate about the inevitable. 
They are all having a bit of a laugh when…
Oh. Oh here he is.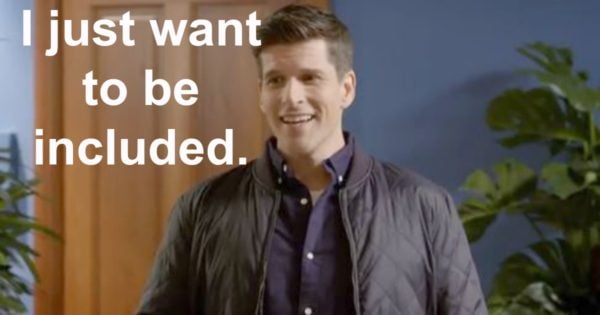 We had hypothesised that without the alpha males (Sam, we're talking about Sam) Osh might become more at ease. But, no. He's still awkward AF. He has one hand in his pocket as he's speaking to them, and I think we can all agree that no one naturally stands with their left hand half in a pocket.