Oh goodness it's been a long six sleeps and we've missed our 13 eligible bachelors. Oh… well, make that 12, because it turns out one is MARRIED.
Dude... no.
There's not much that disqualifies you from being a contestant on The Bachelorette, but we'd imagine being 100% married would be one of them.
We open with some unnecessarily epic music, and a bunch of (hopefully somewhat single) dudes chilling in their bikinis by the pool.
Osher enters after having spent the whole week intensely studying "How To Be One Of The Boys", in order to avoid a repeat of last week's awkward 'peace sign' disaster. He comes with a date card, but we think inside it might just say "Guys, wanna hang out later, orrr...?"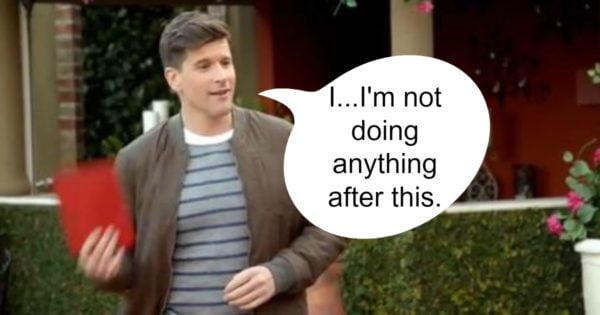 The ever elusive date card clue reads: "I hope we find what we're looking for," and the boys decide it probably means they're going to play a game of Hide and Seek.
FFS.
Last week, they interpreted the group date clue to mean they were going to paintball, when it turned out to be a goddamn Mills and Boon photoshoot.
Can someone please tell these guys this is a REALITY TV DATING SHOW and not a 12 year old's birthday party? Why would you... oh, never mind.
Point is, Lee gets the date. You might remember Lee from the time he was a) hot, and b) the donkey's plus one.