Have you ever wondered what it's like to watch yourself break up with someone on national television?
No?
Well, Georgia Love has been there. And she watched along with the rest of Australia as she had more than one SUPER INTENSE conversation with Courtney.
Listen to the latest episode of Bach Chat, the podcast where we talk all things Bachelorette.
And she too was shocked that she didn't send Courtney packing way, WAY sooner.
"I won't say I regret [not saying goodbye earlier]…but yes, I have been watching it screaming at myself a little bit," she told Mamamia.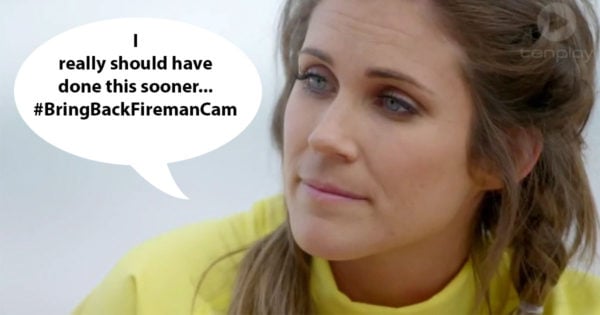 "It's so easy to see things in hindsight, but at the time I really didn't see things and the way that they were playing out.
"I feel a little bit embarrassed that I didn't see it any earlier and now there are memes going around of me on the cover of He's Just Not That Into You..."
Despite wishing she had said goodbye sooner with the gift of 20/20 hindsight, Georgia said she's glad she stuck with Courtney for a long as she did for the sake of proper closure.
"I'm glad that I saw that whole thing through and I gave myself the chance to explore everything with somebody that I really did like and have feelings for," she said.