According to reports from ex contestants, The Bachelor's Richie Strahan was really "horny" during the filming of the series.
Who'd have guessed?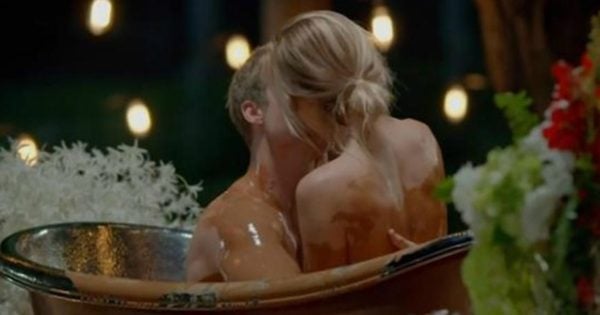 Noni Janur, who was eliminated from the Bachelor mansion last week, told OK! Magazine "I get it, he's probably horny, but kissing so many girls, it just makes you look bad."
The Daily Mail also reports that one contestant has come forward and said that when it comes to Richie, "if you don't put out, you get out".
Indeed, Richie has kissed quite a few girls. Six to be exact. And he has been edging so very close to a Bachelor record.
You see, the Season two Bachelor, Blake Garvey, holds the current record for kissing the most girls during one season of the Australian Bachelor. It was seven - he kissed seven different girls during filming, and pursued serious relationships with two of them (sorry - had to throw that in).
Richie has so far kissed Alex, Faith, Rachael, Nikki, Megan and Olena MEANING that his hopes of scoring a Bachelor record rested with intruder, Steph -- but she was booted on Thursday night.
Viewers have been quite, er, confronted by the public displays of affection during this season, with tweets such as "I feel like I'm watching an intro to a weird porno", and "I feel like this bath situation is soft core porn".
Currently, Sportsbet has pinned Alex Nation as the most likely to win Richie's heart, with Nikki Gogan coming in a close second.