Just days after filming of The Bachelor in Paradise was cancelled amid claims of "misconduct", a crew member of the production has claimed they witnessed producers filming an alleged sexual assault.
On Sunday, the studio behind the show, Warner Bros., issued a statement outlining how producers had become "aware of allegations of misconduct" on set, and production was suspended to allow a thorough investigation to be completed.
According to People, two contestants were filmed in a sexual encounter in which one may have been too drunk to consent.
"The show absolutely values the primacy of consent and in this instance, it appears as though conduct allegedly occurred without the proper consent having been given," a source told the publication.
Those two contestants have since been named as DeMario Jackson and Corinne Olympios.
Now, in an interview with The Daily Mail, a crew member has said the alleged assault began after both Jackson and Olympios arrived on set in on set in Sayulita, Mexico and were told the show would feature a storyline were the duo would hook up.
"Corinne and Demario found out when they arrived in Mexico that the storyline would involve the two of them hooking up so they decided to hang out and get better acquainted over drinks," the anonymous crew member told the news outlet.
"Soon they decided to go swimming and when they climbed into the Jacuzzi, they were both loaded. Corinne proceeded to remove her bathing suit and things got increasingly sexual.
"There was hugging and kissing and touching, but before long, she seemed to go limp and was sliding under water. Demario kept trying to hold her up and at the same time he appeared to be having intercourse with her. After he finished – which only lasted a few seconds – he lifted her out of the water and laid her on the cement, where he proceeded to have oral sex with her."
The crew member also alleged Olympios appeared "unconscious" and that she had to be carried to her room because "she was limp and seemed unable to walk on her own".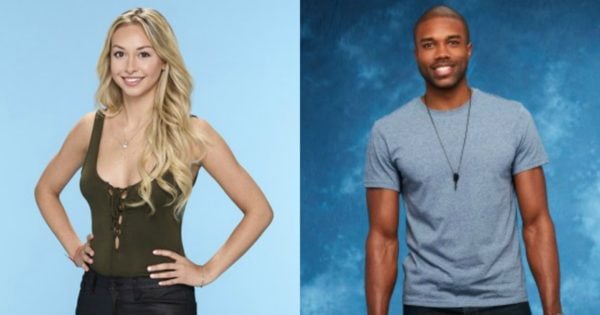 The interview comes after a series of text messages obtained by New York Post have emerged, with Jackson claiming "we all know what happened" and "the tape will prove" his innocence.
While Jackson and Olympois are yet to publicly comment, longtime Bachelor host Chris Harrison addressed the controversy in a statement to the New York Post.
"By now, no doubt, you have heard that we have suspended production on this season's Bachelor in Paradise. I can confirm to you that this is sadly the case," Harrison said in his statement. "Out of respect to all involved, there's only so much I can and will say at this time. Normally with a situation like this I would not say anything until the incident is fully resolved, but with all the rumours and misinformation being put out there, I don't find that to be possible anymore."
If you or someone you know is in need of help, please call the National Sexual Assault, Domestic and Family Violence Counselling Service on 1800 RESPECT.