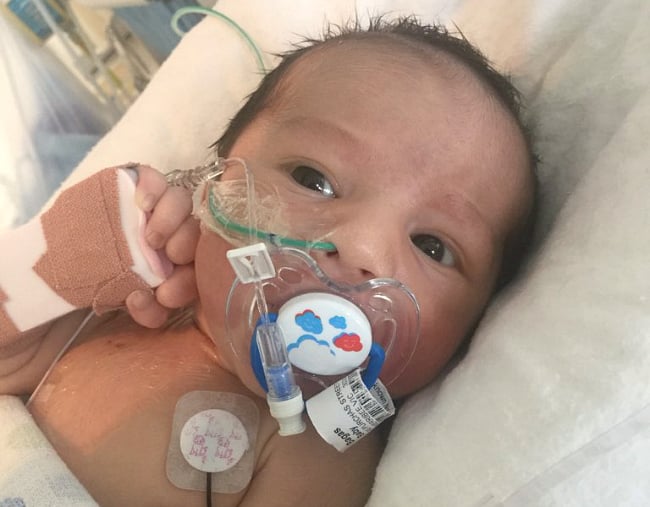 On Thursday, Ashlee Bagas held her newborn son for the first time in three weeks. Emmett's little body had previously been anchored to his bed at Melbourne's Royal Children's Hospital, the tubes helping to drain his kidneys too delicate to allow him to be moved.
"It was so surreal [to hold him again]," Ashlee, 24, told Mamamia.
At just five weeks old, Emmett is living with angiosarcoma, an aggressive cancer that affects the internal lining of the blood vessels. It's incredibly rare. In fact, Ashlee has been told Emmett is likely to be the only newborn in Australia and possibly the world currently diagnosed with the disease.
Dr Luciano Dalla-Pozza of the Clinical Oncology Society of Australia, who is not involved in Emmett's care, said angiosarcoma can occur in any age group, but is more common in adults.
"Maybe worldwide 50-70 patients have been described in the literature. It's more common than that, but [clinicians] often don't report them," he told Mamamia. "Still, it's extraordinarily rare."
Emmett is surrounded by loved ones.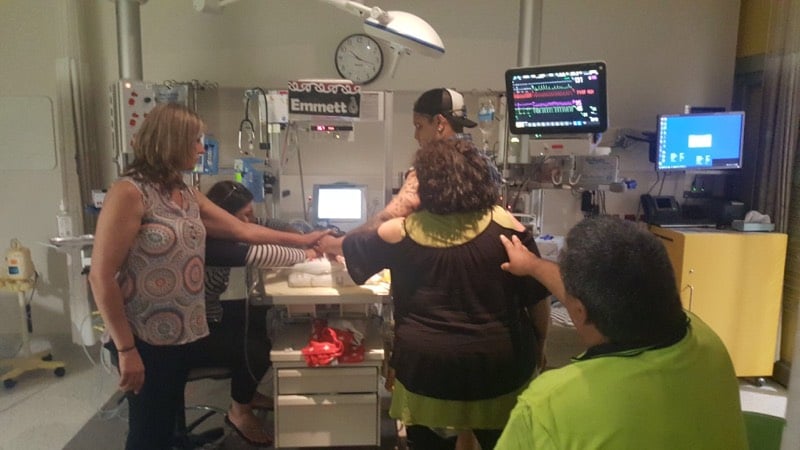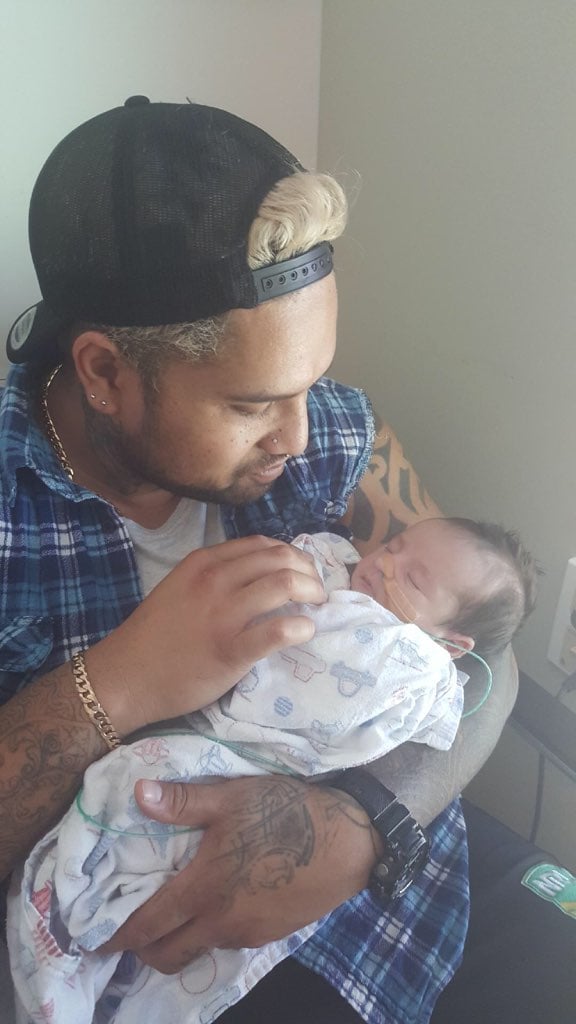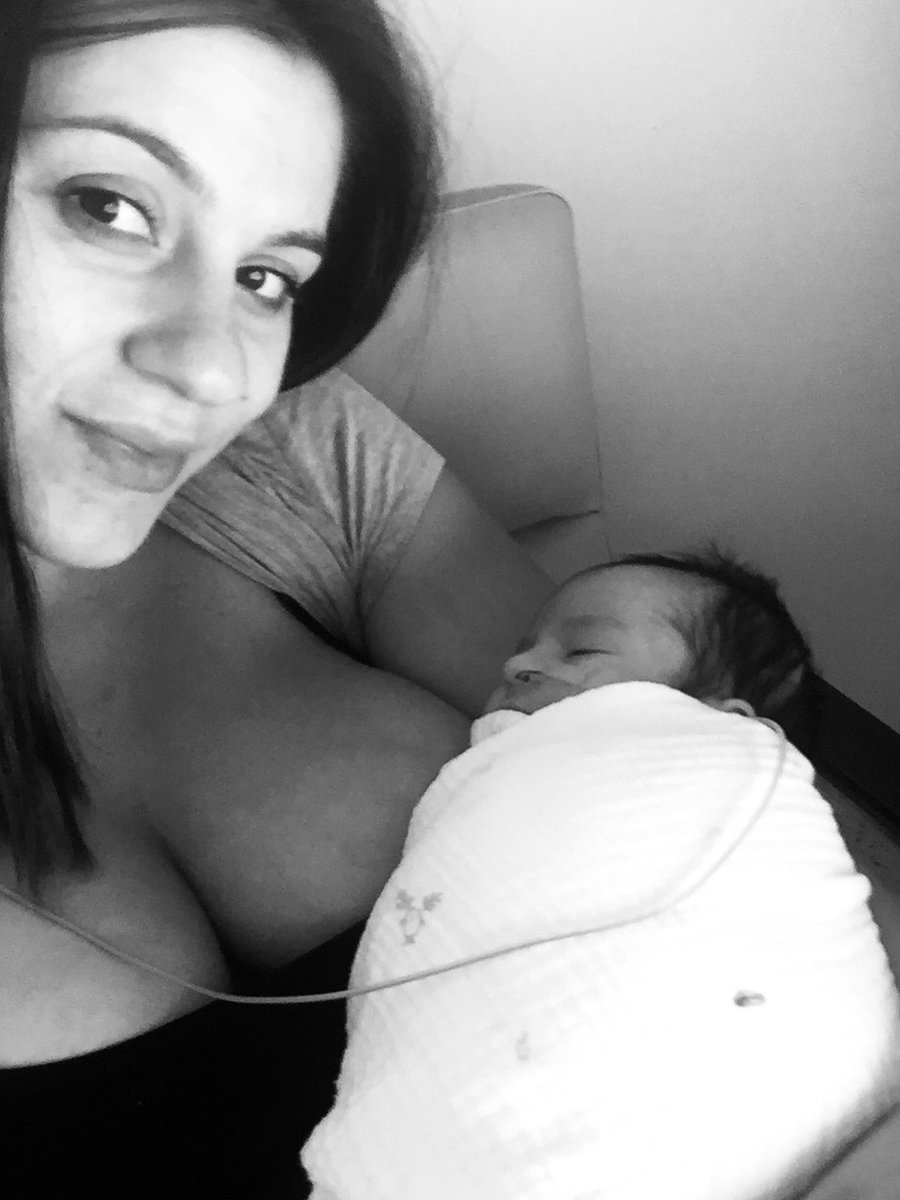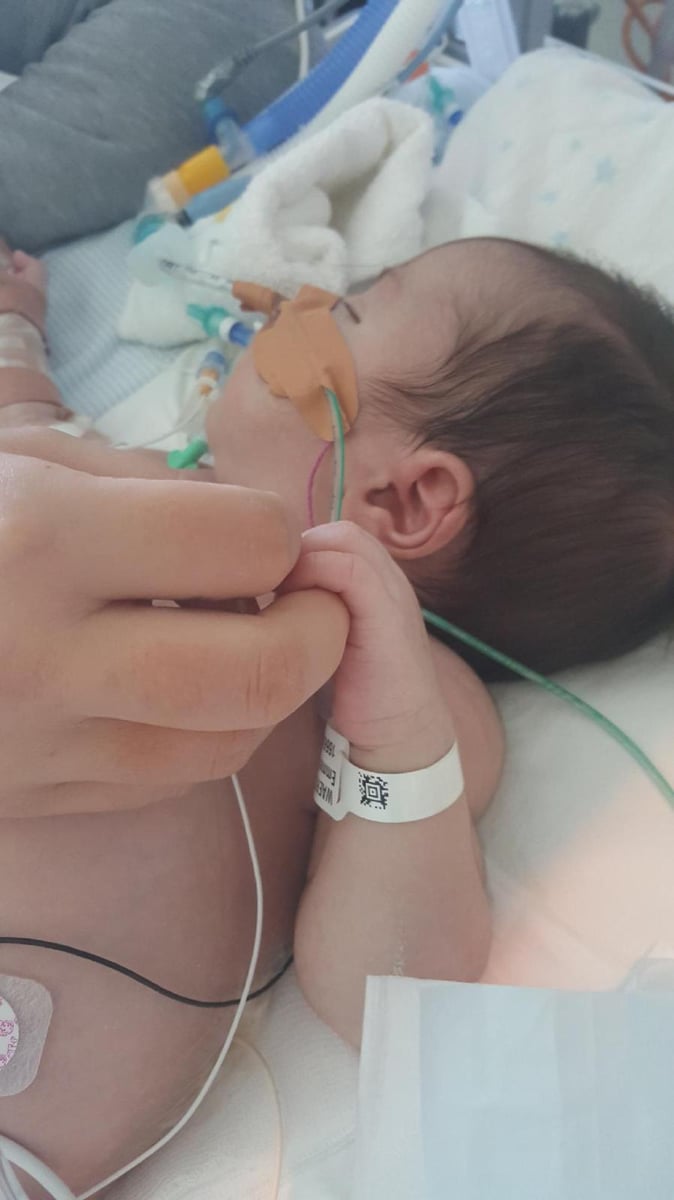 It was clear from early on that Emmett was unwell. Just two days after his birth a midwife raised concern about his breathing.
"She said, 'Your son is breathing really hard and fast. I'm a bit iffy on it. I'm not liking it. I'm going to get the paediatrician to come,'" Ashlee said. "I was half asleep, exhausted. I didn't know how worried I should be."
A referral to RCH revealed a build-up of fluid and air in his lungs, that needed to be removed via a tube surgically implanted into his tiny chest. After more than two weeks in hospital, fed through a tube, Emmett was allowed to go home for the first time, to be in the arms of his parents and with his sister Alena, who turns two in April.
But not all was well. He was irritable, unsettled, and at times so lethargic he wouldn't feed for eight hours at a time – not even from a bottle. Yet somehow, in the course of a weekend he went through close to 50 nappies.
Then, on the third day home with her little boy, Ashlee awoke to the sound of him choking.
"I just jumped out of bed and turned his head to the side, and he did this massive projectile vomit. There was a lot, and it was coloured yellow," she said. "I knew it wasn't normal. Something wasn't right."
After a visit to their local emergency room, Emmett was transferred back to RCH where surgeons discovered a cyst-like mass in his intestine. This mass had created an obstruction, preventing the newborn from being able to pass faeces.
"The surgeon said what they found was really unusual and they hadn't seen anything like that before. So they sent the cyst to pathology," Ashlee said. "At the time I was hopeful, but I also thought, OK, two things have happened now. One more is to come. I didn't know what it was that made me think that – I don't know if it was superstition or what. But I just knew there was something up."
The diagnosis came on Valentine's Day.
"We were asked to have a meeting with the consultant in charge of Emmett, and were told there would be a social worker involved," Ashlee said. "And I said to Josh, 'We're going to be told bad news'… I just knew. I went to the toilets and I was just sweating and trying to calm myself down. Then we went and sat in the room, and next thing you know he was diagnosed with cancer."
The cyst in his intestine was, in fact, a tumour.
"My whole world came crashing down. It was just like, how can this happen? From there, you basically just start picturing how you're going to bury your child," she said. "It felt like the end. It felt like they'd announced his death."
Emmett has so far undergone four surgeries, and is currently being given chemotherapy in the hope of shrinking the tumour. Doctors are working tirelessly to determine how to proceed with treatment, which is an immense challenge given the reportedly unprecedented nature of his diagnosis.
The uncertainty is crippling for Ashlee; at once frustrating and draining. Yet she's purposefully avoiding learning too much about his type of cancer.
"I need to be strong for my daughter and I need to be strong for my son, and I don't want to put any extra bad thoughts into my head. I just want to know the basics of what's happening. I don't want to make assumptions or have scenarios playing over in my head that may not even happen. I just have to trust the doctors and just hope and pray that it doesn't get worse."
Ashlee's faith is guiding her through and she said she's found new depths of trust, support and care in Josh. Plus the community are pitching in, too. A GoFundMe fundraiser has helped recoup some of the savings the couple lost to the costs associated with Emmett's treatment.
"Any donation is an extreme blessing. But it's not so much the donations – it's the sharing. I find that more of a support," she said. "Because the GoFundMe is also in hope that someone will see Emmett's case and have more information, or something to help him."
In the meantime, she's doing her best to be there for her little boy.
"Day by day, I'm becoming a lot more positive," she said. "I tell myself, how can I be thinking about putting my son in the grave when he's still here? That is the worst attitude someone can have. He's fighting to survive, and I need to do that with him."
To donate to Ashlee and Josh, please visit their GoFundMe page, "Emmett Battles Angiosarcoma".