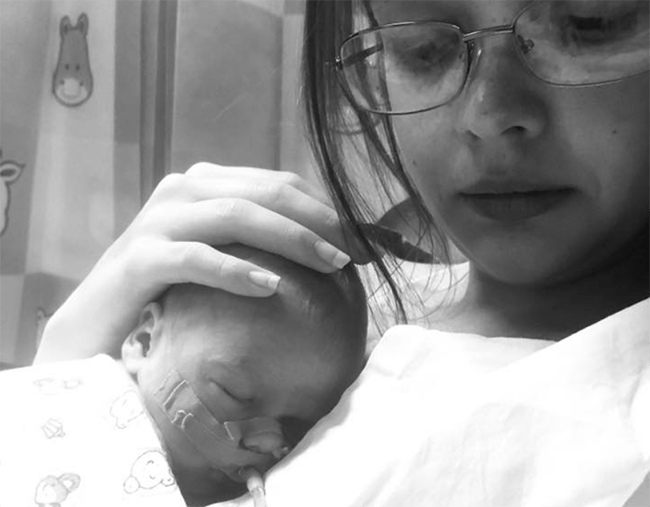 1. QLD hospital investigated after a baby was born "brain dead" because his mum wasn't given an appointment.
Young mum Taylor Scott in Queensland was 20 weeks pregnant with her second son, Jaxson, when she tried booking an antenatal appointment at Gladstone Hospital in October last year.
The 19-year-old called the hospital concerned because her waters had leaked. But, speaking to Nine News, she says she was told by hospital staff they were busy and "would call me back".
It turned into a months-long fight to be seen, Scott alleges, and resulted in Jaxson being born a "dead baby" with brain damage after an emergency C-section was performed in January this year.
After that first phone call, Scott says she phoned the hospital "quite a few times" over the following fortnight and always received the same response:
"They said they would ring me back", the mother-of-two told Nine News, but they never did.
It was only after she went to the hospital herself at 31 weeks pregnant, that hospital staff scheduled her in for a priority appointment to take place on January 16, Scott claims.
Still, it wasn't soon enough, and Jaxson was delivered on January 7 when Scott rushed herself to the hospital saying, "Something is wrong, I'm in pain and can't feel my baby move".
Jaxson was delivered in an emergency caesarean on January 8 after doctors saw his heart rate was weakening in the womb. He was dead at delivery, Scott says, and it took eight minutes for a paediatrician to revive him.
"They are investigating what happened to help us find out why they ignored us and to improve the hospital," she said.
"I don't want any compensation from them as it takes funds out of the hospital I just want them to learn their lesson and do better so this never happens again."
After the birth, Jaxson was moved to a hospital in Brisbane where they put him on life support. Thankfully, he started regaining strength and moving his legs and arms when his breathing tubes were eventually removed.
Still, the road ahead is not easy.
A recent MRI has shown Jaxson's brain cortex function is "100 per cent gone", Nine News reports, but Scott is convinced Jaxson is progressing well and will look for a second opinion.
"I need to be reassured if he is going to have problems but personally I think nothing is going to be wrong with him as he is doing so well and progressing like a full-term baby," she said.
Meanwhile, an investigation into the actions of staff at Gladstone Hospital is underway, with Sandy Munro, executive director Nursing, Midwifery and Safety and Quality, Central Queensland Hospital and Health Service telling Nine News: