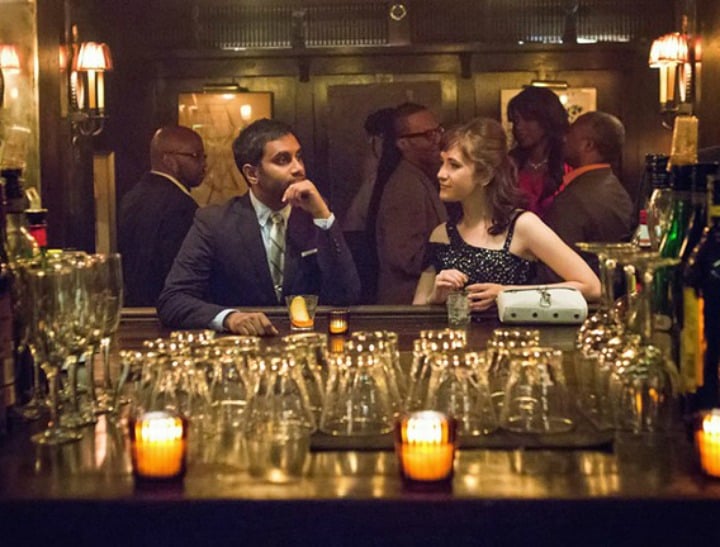 Aziz Ansari is best known as Parks and Recreation's entrepreneurial, social media obsessed Tom Haverford, whose voice echoes in my head every time I debate making an extravagant purchase.
Although we said a heartbreaking goodbye to Parks and Rec earlier this year, Ansari's career has only gained more momentum. Now the actor and stand-up comedian has co-created Netflix's latest comedy, Master of None. In this loosely autobiographical show, Ansari stars as thirty-something actor Dev, as well as showing off his impressive skills as a writer and occasional director.
The first episode opens with an awkward sexual encounter that springboards into Dev questioning whether he wants to settle down and have kids. He looks around at all the friends who've suddenly had babies and daydreams about what his own kids might be like. In the name of research, he goes to a toddler's birthday party and offers to babysit for friends.
Anyone who's ever parented or babysat knows exactly where this is going, and hilarity ensues along the ride.
Every episode is damn-near a work of art exploring a different facet of Dev's life, from the struggles of his immigrant parents, to his confrontation with TV execs who believe "you can't have two" Indian-Americans on the one show.
For more Aziz brilliance, check out the clip below. Post continues after video...
Episode 7, titled 'Ladies and Gentlemen', explores with biting wit and refreshing insight the ways in which men glide through this world oblivious to the ways women struggle for the freedoms they take for granted. This is best illustrated by a sequence in which Dev and his friend dawdle home from a bar to 'Don't Worry, Be Happy', while a female friend attempts the same with a very different experience and a soundtrack more suited to something Steven King would write. My feelings for this particular episode can only be described by heaving sobs of laughter and the texts I sent my sister reading "TOO REAL" followed by a range of emojis.
It's rare to find a show so strong in its own unique voice from the very start. A sophisticated cultural awareness permeates the entire series, which features the most delightfully diverse cast of well-rounded secondary characters.
Master Of None is more than just another sitcom, as Dev struggles with relationships, family, work and life in general, the laughs are plenty and the emotions are surprisingly poignant.
Master of None is streaming on Netflix now.
Are you an Aziz Ansari fan?