Ayahuasca is an hallucinogenic brew that's been described as the yoga of drugs, and more and more Westerners are heading into the Peruvian jungle to try it.
The tea has been used by indigenous Amazonian cultures in religious ceremonies for centuries, and when you drink it, it takes you on a spiritual journey that can last for up to eight hours.
It'll also make you vomit, have diarrhea, and completely lose your own sense of awareness and consciousness.
Foreigners who ingest the brew place their own safety and wellbeing in the hands of shamans they met only moments beforehand.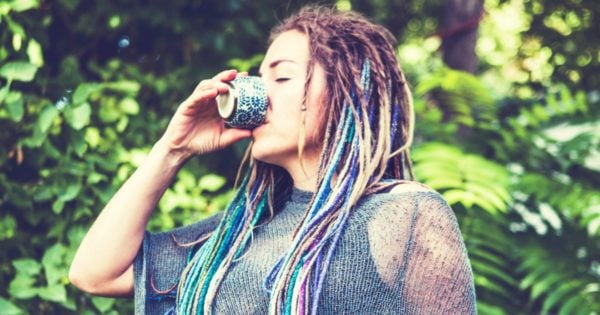 So why are they doing it?
In her article for ELLE,  American writer Arianne Cohen talks about her own experience with ayahuasca, to her it was "like a tumultuous dream, with an internal magic wand that I waved over my soul, pausing each time I felt a soft spot."
Cohen wanted to try the ritual to work through her ex issues, figure out her career and finally address the eating issues that had been following her around all her life.
After Cohen ingested the tea, she immediately saw a vision of 'pink demons' blocking her way. She then vomited into a bucket for over an hour, before seeing herself as a "white Pillsbury Doughboy–style blob floating down her street".
"Reaching out to stop me were the inconsequential tiffs and difficult people in my life, each spraying colorful fields of their particular crazy. My blob wanted an unobstructed roadway," she wrote.