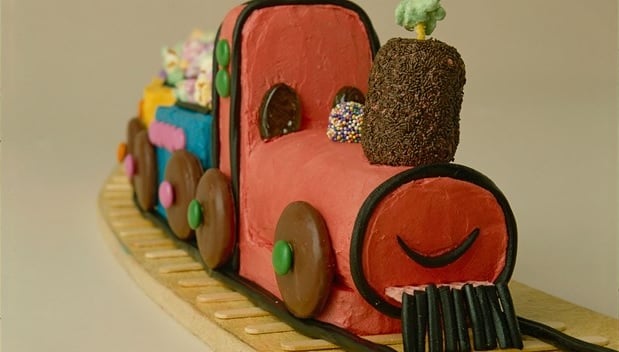 By ELLY JEAN-LOUIS
This week Mamamia challenged me to cook an iconic cake from the Australian Women's Weekly Children's Birthday Cake Book, first published in 1980. When I accepted this challenge I knew I was in trouble.
I love to bake cakes, flans, tarts, pies… you name it. But when it comes to detailed cake decorating, my skills lack a certain finesse (to say the least).
When I started the challenge I looked at the ingredients blankly and wasn't sure where to start. Once the cakes were cooked I began to assemble (it was a team effort). My mum, boyfriend and I were all in the kitchen congregating around the lollies, sponge cakes and jam rolls. An hour and a half later, we were finally done.
I had spoken to friends who had made this cake before and they assured me that it was a breeze. Despite their reassurance, my cake looked like a five year old had decided to bake their own birthday cake (the kitchen afterwards looked that way too) although it tasted devilishly good I am going to leave the novelty cake decorating to the experts.
I definitely encourage you all to try it. I'm sure you'll have more success than me and hey, if it doesn't resemble a cute iconic train… the process is a lot of fun.
This is what it was supposed to look like: