My medical student boyfriend looked up from the notes spread out in front of him and grinned, exposing his gums. I suppressed a sigh, trying to focus on the developmental psychology assignment I was working on.
"What?' I said.
He'd attended a forensic pathology lecture earlier that day and he'd spent most of the evening regaling me with the grisly details.
"Do you remember that hot air balloon crash in Alice Springs that happened back in '89?" he asked.
I didn't. But I nodded anyway, in a futile attempt to stop him.
Two balloons collided. One plummeted 2000 feet to the ground. Thirteen people died in what was at the time the world's deadliest hot air ballooning accident.
"Some of them tried to jump at the last moment," he said. "It didn't help. Their bodies absorbed the impact through their feet. Their leg bones were shattered, and some of the victims' femurs were even pushed up through their armpits."
"How awful!" I said, trying to avoid the mental image. My boyfriend had been trying to talk me into going hot air ballooning in the Yarra Valley with him for months, and now he'd told me about this?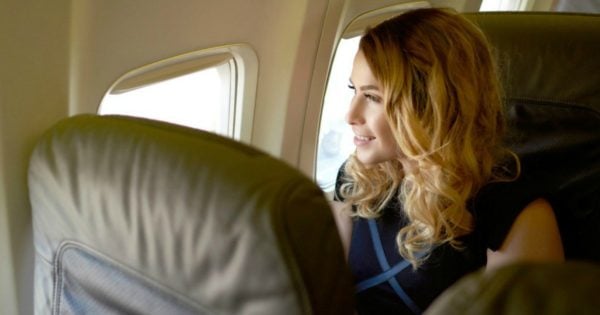 A few years later, my medical student boyfriend had turned into my doctor husband and he'd managed to persuade me to go parasailing in the Whitsundays. I was sitting beside him in a two-person harness, staring down an impossibly long rope attached to a speedboat the size of a bath toy from our height.
My husband began to move his legs back and forth, making the harness swing.
"Don't," I said, my knuckles whitening.
He grinned at me, looked at the clip on our harness attached to the parachute, and reached up, pretending to undo it.
He was joking of course (if you can call pretending to kill someone a "joke"), but the second of pure terror which seized me as I saw us freefalling 500 feet to our deaths was the first of a series of incidents that convinced me that humans were not meant to fly. Being stuck in the airplane lavatory during a ten minute patch of extreme turbulence over the Pacific Ocean. A hard landing in Manaus, Brazil that made me bite my tongue so badly it bled. Enduring a hold pattern over Heathrow for so long that I was certain the plane was going to run out of fuel.