A seven-year-old Adelaide student has been banned from bringing his autism assistance dog to school because it is said to pose a risk to other students.
Mum-of-four Jodie Davidson says her son Aiden's black Labrador, Cobolt, helps keep him calm.
"When Aiden gets overwhelmed or it's too hard for him, Aiden runs off. He used to be a runner but since he got the dog – he doesn't want to run anymore. The dog comforts him," she told Mamamia.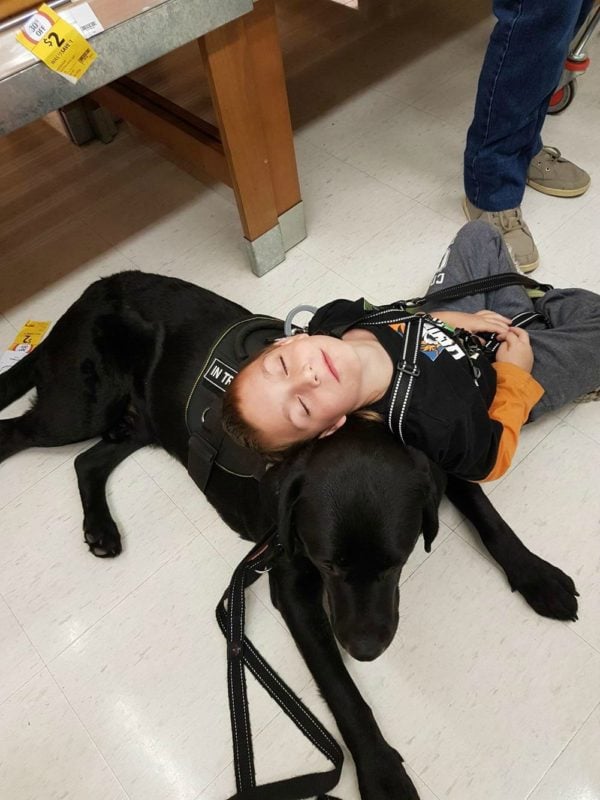 The family purchased the dog around 18 months ago and have used it at O'Sullivan Beach Primary School to help coax Aiden onto school grounds.
"Friday last week, I decided 'stuff it', I'm going to take the dog into the building," said Davidson.
That afternoon the family received a letter that outlined the school's anaphylaxis and allergy policy.
The letter said the policy "clearly states that animal hair can be a trigger" for allergic reactions and parents were not permitted to bring animals into school buildings.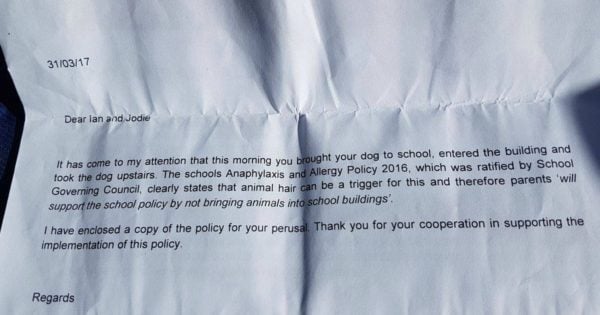 The Adelaide mother said her son asked to have the dog at school and she thought it as a fair request.
"It is his right to take the dog to school with him," she said.
But the family faced difficulties on Monday when the Year 2 student attended a school assembly with the dog.
"I took the dog into the hall and I got told to take the dog outside and I just blatantly refused to, because the dog was lying down with Aiden," said the Adelaide mum.
"I was in there for about five minutes trying to settle the boy and they said: 'The dog's not allowed in here'. I told them: 'You can't actually stop the boy from bringing him in here because he is an assistance dog.'"
The mother of two says the school has questioned if her seven-year-old "really needs" his dog.
"I got [the dog] for Aiden for him to feel safe, to feel comfortable and feel like he's got a real friend because he doesn't socialise properly. I just need Aiden to feel comfortable."
Just last night, Aiden has told his mother that he wants to take Cobolt to school "all day".
Davidson says the Labrador keeps her seven-year-old calm, cool and more at ease.
"He's more confident with the dog. He'll talk to people because people will ask what the dog's name is. He is just a happier little boy because he's got his best mate right beside him," she said.
A Department for Education and Child Development spokesperson said: "Schools must consider the needs of all students to keep children safe and well."
"The school has an agreement with the family that outlines how the assistance dog will support this particular student," they added.
"The agreement also takes into account the medical condition of another peer, to ensure the needs of both students are being met."
Podcast: Jessica Smith: motherhood with one arm. (post continues after video)

The school says they will continue working with the family to ensure the agreement reflects the student's needs, while ensuring a safe environment is maintained for other students.
Davidson said she hopes going public with her story will help the school reconsider its policy and be of  help to other children with assistance dogs.
Anne-Marie Hayes, Executive Director of Early Years and Child Development, DECD, told ABC radio assistance dogs can make a big difference.
"It's not the fact that we don't want that dog there – we do – and we have an agreement with their family but any parent who has a child who has an anaphylactic reaction to dogs would understand why we're trying to mediate between two children's needs and that's often the case for us at schools," she said.