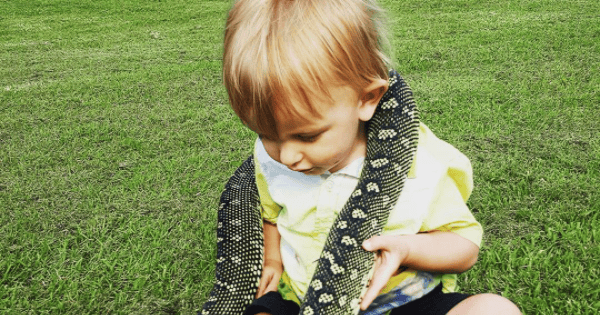 If a dog is man's best friend, then boy's best friend must be a snake.
If you get in early before kids learn to fear these slithering creatures, that is.
Jensen Harrison is a kid with no fear. He's just two years old and he's already handling snakes like a pro. In fact, he's been hanging out with the reptiles since he was a newborn!
Jensen's dad Tony joined the This Glorious Mess podcast this week to chat about his snake-loving son who wears a serpent as a scarf.
Tony Harrison runs a business on the Gold Coast with his wife Brooke, catching snakes and showing their collection of reptiles.  When his son was born, the family business acquired a brand new employee.
Tony told hosts Holly Wainwright and Andrew Daddo that Jensen had no other options, snake catching is a way of life for the Harrisons.
"As we were leaving the hospital and he was seeing daylight for the first time, we got a snake call to Wet'n'Wild and he was under Brooke's arm at the tender age of 20-something hours old, catching a snake with his mum," Tony says.
Whenever Tony gets called out to catch a snake, along goes Jensen. And if the snake is non-venomous and not too big, he gets the call up to catch it.
"He can do everything except tie the bag," his dad boasts.
"He has taken on a few jobs himself."
Jensen is the business card boy, and always hands over the invoice. If anyone else tries, there's trouble. And this is a boy with multiple pet snakes, you don't want to mess with him.
So what do people think when they see a pint-sized toddler handling a mammoth snake?