Forget urban legends and tales of inner-city terraces overtaken by ghosts – this Queensland town is taking out the prize for paranormal activity.
With just 110,000 residents, Towoomba has been officially named Australia's most haunted town. But let's be clear – that population figure does not include the 50 or so ghosts that also occupy the regional hub.
From sightings of friendly ghosts who play games with families, to those haunting the local railway station and pub, the place is absolutely crawling with the spirits of those yet to cross over.
The town, featured on Tuesday night's episode of The Project, is also home to Queensland's version of Ghostbusters – Ghost Chasers Kylie Samuels and Katie Harvey. A pair who say they've spent the past five years investigating spirits, ghosts, UFOs, urban legends, demonic hauntings, poltergeists and whatever else the town throws up.
"There's no limit to what we'll investigate," the duo admitted before sharing some of the town's better-known ghost stories.
Ghosts captured on film. Source: Ghost Chasers / Facebook.
"History has it that a lady by the name of Nellie Perkins was killed on the railway lines here, and now she haunts the railway station," they said, adding that she's been seen in the second story railway building window by many throughout the years.
Then there's the local pub, The Royal Bull's Head Inn, which was built by a former convict in 1847.
In addition to hearing the voices of young children throughout the building, Samuels and Harvey say they've also "photographed a lady on the verandah. She's been documented as being seen a lot."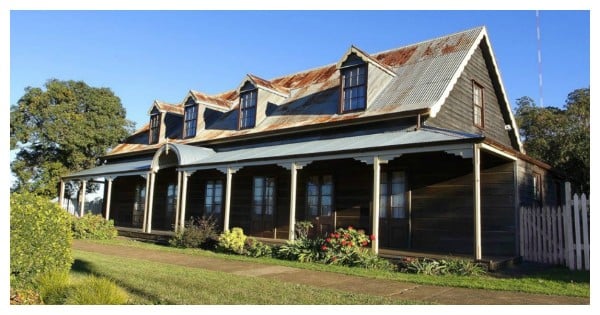 The Royal Bull's Head Inn. Source: National Trust.
While the theories surrounding the paranormal presences range from almost believable to completely off the richter, one psychic  says it has to do with the location of the town itself.
"We live on top of an old volcano, all the energy from the earth is coming out," Psychic Kara explained to viewers.
Incredibly, Channel 10's crew also felt the unexplained presences, with a microphone inexplicably exploding while filming in the local cemetery late at night.
While Harvey admits that she still gets scared from time to time, Samuels says she loves it.
But when it comes to skeptics, their message is clear.
"We don't care what people think, it's what we like to do and what we believe in," they say finally.
So tell us, do you believe in ghosts?
*Main image via Fox International.