Welcome to episode two of Australian Survivor. 
It's days three and four of castaway life and Jonathan LaPaglia is back with his finest form-fitting tee. Thank God, is really all I can say.
Having (sort of) settled into their new remote lives and already voted off the first competitor, the three tribes now begin to get down to the gritty business of establishing their camps and forming those all-important alliances.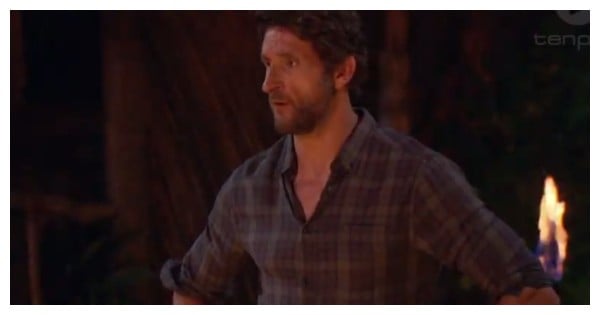 Hey, LaPa! Source: Australian Survivor.
Within minutes of the episode starting, Aganoa member Kristy has gone full crazy-eyed ham, accusing her tribe members of stealing her possessions and thinking she's not smart enough to know what's going on.
Mostly, the rest of Aganoa just look on confused as to what the actual eff the account executive is doing while she rifles through wild growth looking for something that clearly isn't there.
"They all think I'm an idiot but I can see it from a mile away," she says, laughing maniacally.
If this wasn't reality television it would almost be uncomfortable to watch. Thankfully, though, looking on as the mental health of 24-year-old crumbles is made okay by the fact that she's in the running to win half a million dollars.
(Tbh, though, if carbs and coffee were taken away from me that quickly I'd probably be at the point below within... I'm going to say six hours.)