Belinda Watson couldn't find anything fun to wear to all her upcoming events with her friends.
Ten years later and her women's fashion label, Binny, is a huge success and each of her collections tell a story.
Read her interview with Mamamia.
What is Binny?
Binny is a women's fashion label that originally started in 2008 when I couldn't find anything fun to wear to all the events my friends and I were attending – 30th's, engagements, weddings.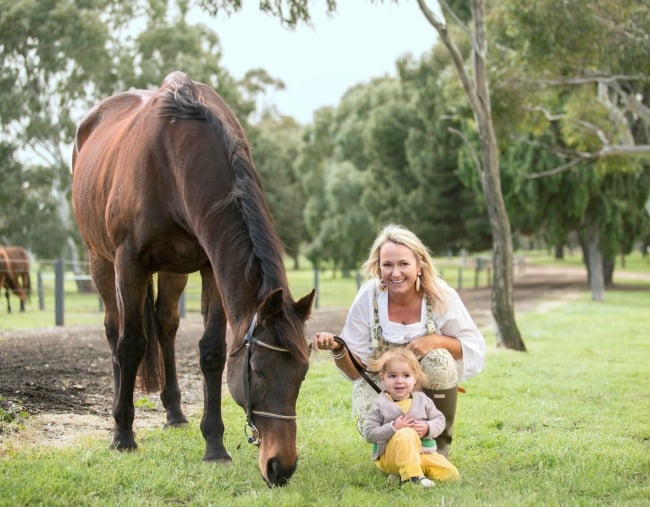 Binny Watson with son Ollie. Image: supplied.
The brand has kept this foundation as part of its DNA since starting, even though it has grown and developed over the last almost ten years. I am now designing with the thought of life with babies and school runs. Less high heels and more sneakers.
Every single piece has a little tale to tell and they all come together to share a bigger message.
What were you doing before you went into business for yourself?
My career path is so random. I took a couple of years off from fashion and moved from Melbourne to Sydney to work in marketing for an international horse stud owned by a Sheikh. A long time before I even got into fashion though I was a chef and my parents bred racehorses. Random, right?
What made you want to start your own business?
I realised how much I missed and enjoyed the fashion industry. After starting two brands from scratch for other companies and being involved in all sides of the business, from sales to design, I took a deep breath and decided to try my own brand.
How did you come up with the name?
After thinking about it forever I finally settled on my own nickname, Binny. I never wanted to call it after myself but it was holding everything up and I just had to call it something.
Describe the staff/ownership structure of your business.
It has changed so much! It was just me and the sales agents for the last nine years. Now I have a great team around me and everything is a lot more enjoyable. I have Kirsty who runs the office, Erin my PR agent and Catherine my production manager. Alongside my fantastic sales team who have been there from the start.
What's the single best piece of advice you got?
Just stop listening to everyone and listen to yourself. I found it so hard to design at the start as I had so much input from everyone and I would get confused.