An Australian United Nations diplomat has died after falling from the seventh floor of a New York City building, according to reports.
Julian Simpson, 30, a second secretary to the UN for Australia, died on the Lower East Side in the early hours of Wednesday, local time.
Mr Simpson had been out with his wife and friends before they returned home to admire the view of the Empire State Building, which was lit up in rainbow colours to celebrate Australia's gay marriage vote, The New York Post reported.
The New York Post also cited police sources as saying Mr Simpson may have been playing "trust" game on the rooftop deck of the building when the accident happened.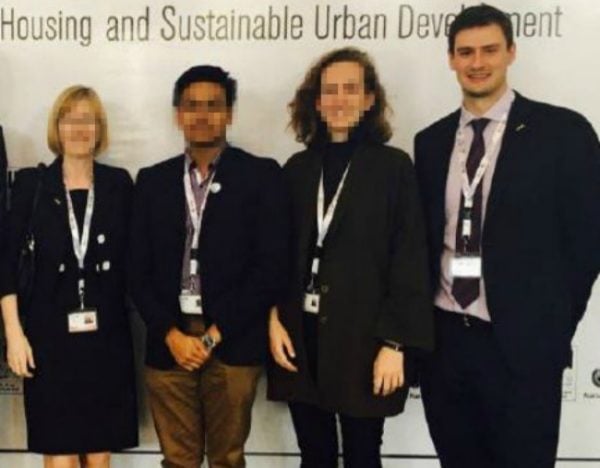 "I will prove that you can trust me," Simpson told a friend as he leaned over the Lower East Side building's ledge just past 1:40am local time, according to police.
"Let's play the trust game."
The friend, a 24-year-old, told police that he had held out his arm to catch the 30-year-old, but that Simpson lost his grip and fell over the balcony.
Reports say Simpson had suggested the game after the friend had confronted him over his actions with his wife.
Simpson had suggested the game as a way to prove he could be trusted.
Mr Simpson was rushed to the Mount Sinai Beth Israel Hospital where he was pronounced dead.
Investigations are continuing, but police do not suspect foul play.
Prime Minister Malcolm Turnbull has described Julian Simpson's death as a "shocking tragedy".
"It is a tragedy and hearts go out to his family but I cannot provide any more details," he told the Seven Network on Thursday morning.
"It is a shocking tragedy. A young life lost."
A spokesman for the Department of Foreign Affairs and Trade told The Sydney Morning Herald the family was requesting privacy.
"The Department of Foreign Affairs and Trade is providing consular assistance to the family of an Australian diplomat who died in New York," the spokesman said.
"The family has requested privacy at this time."