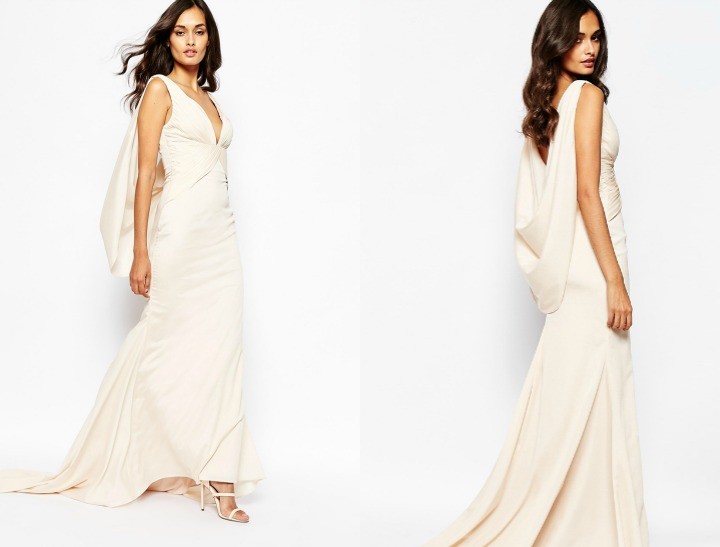 Weddings are insanely expensive.
$5000 for a dress? Easy. Over $600 for the cake? Expected. And let's not even start on the venue hire and the price of placing some smoked salmon on some mini toast.
That's why this latest bridal trend is so refreshing.
Instead of coughing up thousands and thousands of dollars on a fancy designer frock, some brides are reportedly opting for a simple ASOS wedding dress.
The best part? It costs just a little over $300.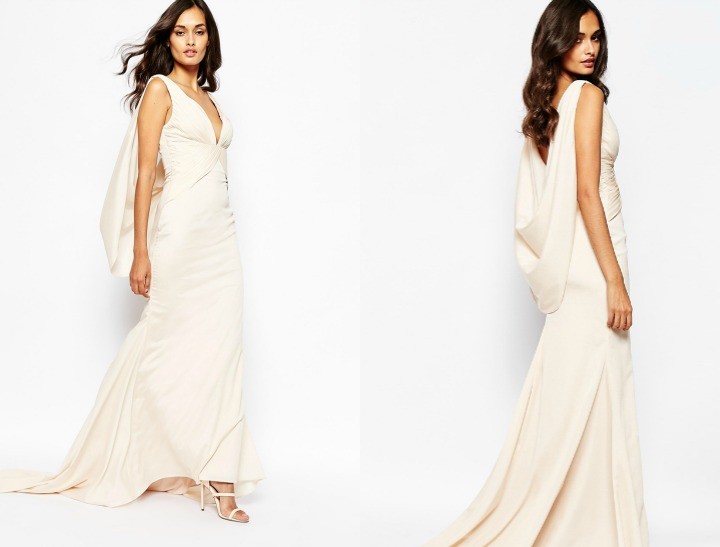 The Fame and Partners Eternity Maxi Dress With Low Cowl Back is available online for $309.
It is nude, and is currently available in sizes 6-12. And in official fashion talk, it features a V-plunge neckline, fitted waistband with pleated detail, oversized cowl back and fishtail hem with back train.
Of course, it's not the only ridiculously cheap wedding dress to make headlines in Australia recently.
Last year, H&M debuted a $99 wedding dress. Forever New has a range of wedding-appropriate white maxi dresses for under $300. And Lover the Label is becoming an increasingly popular option for lo-fi brides-to-be.
It makes sense – earlier this year, Bride to Be magazine's Cost of Love survey found that the average cost of an Australian wedding had risen to $65,482.
That's a decent sized car. A downpayment on an apartment. Or a really nice holiday.
If that figure is enough to leave you breaking out in a cold sweat, it might be time to visit good old ASOS.
And while there will always be brides who opt for an expensive princess gown, it's great to know there are more and more options out there for those of us who want to keep things casual (and affordable).