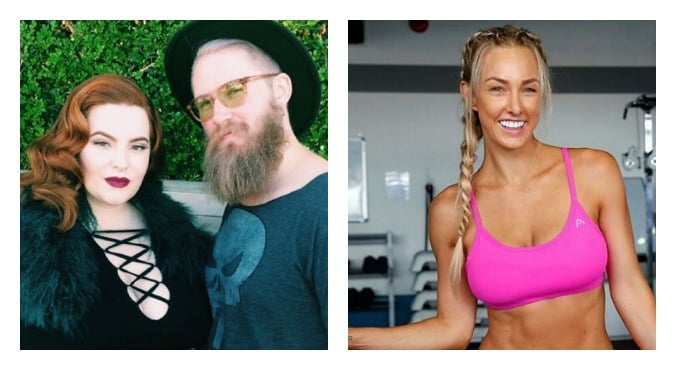 Images: Instagram (Nick Holliday/Ashy Bines).
Last week, personal trainer Ashy Bines came under fire for a social media post describing US plus-size model Tess Holliday as an unhealthy role model and arguing she shouldn't be "applauded" for her size.
"Thin girls are slammed A LOT these days but females who are carrying more weight than what they should for their bodies, organs, moods, bones, cells etc. to be 'healthy' are now inspirations because they are confident in their swimsuit?" the Gold Coast-based fitness star wrote.
To illustrate her message, the 27-year-old shared a photo of Holliday alongside one of a "clearly underweight" catwalk model, who turned out to be a Brazilian model who died of health complication arising from anorexia.
The point Bines attempted to make was that neither woman reflected a "healthy" image.
While a number of Bines' fans supported her message, she also drew widespread accusations of body shaming from her followers and international media. In a follow-up video posted on Facebook, Bines defended her views amid the backlash.
"I'm not saying you need to look a certain way to be healthy, but it was quite obvious that both of these women are not healthy. Anyone who says they are, I'm sorry but you're seriously kidding yourself," she said.
Bines then went on to speculate about Holliday's prenatal health.
"Now that you are pregnant also, the risk of birth complications and providing your baby with the nutrients that it needs to have the best start in life, I just don't think you're doing a very good job and you're putting this out to your 1.1 million followers," Bines, also a mum, said.