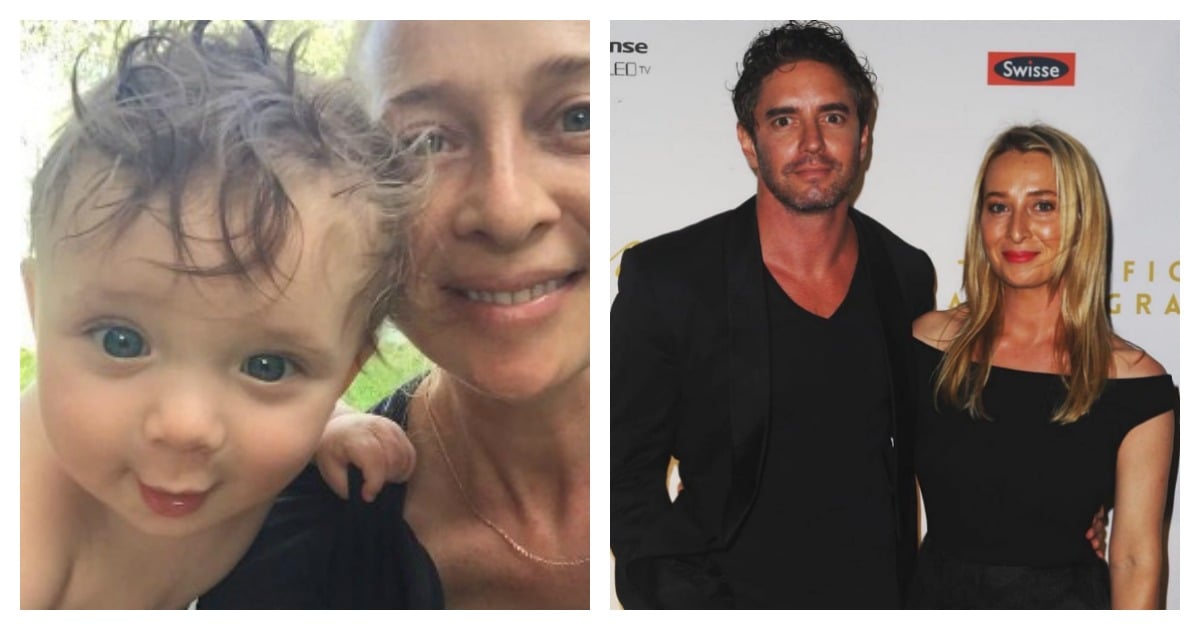 Asher Keddie, star of TV series Offspring, has always kept her personal life private (and rightly so).
But, in a rare interview with Sunday Style, Keddie has opened up about her family, including her darling little boy Valentino.
After marrying Vincent Fantauzzo in a small Fijian ceremony in 2014, the 41-year-old fell pregnant.
She had just decided to take a break from acting for a while and spend time away from the cameras.
"… This amazing surprise occurred and that's when I made a particular choice to have a break, a proper [two-year] break. I told myself, 'I'm going to give this time to myself and my family, and enjoy my pregnancy'."
Watch Asher talk about her life with new husband, Vincent, one week after getting married. (Post continues after video.)
For a long time before having her son, Keddie had faced the pressures of having children.
Previously discussing the topic, she said, "Why are we only considered successful if we can juggle family with a demanding career?"
But after meeting her husband, Keddie had a change of heart.
"Circumstances change. You meet someone and think, 'I'd really like to have a child with you and I feel differently, and isn't that wonderful?' You start thinking, 'Perhaps it is something I'd like to do'."
Speaking about Valentino's birth, who turned one earlier this year, Keddie tearfully said the moment was indescribable.
"When I was in it with Vincent, we were so together and it was lovely. I can't really remember much before I had [Valentino] in my arms, but it was hands-down the moment beautiful moment of my life.
"To share that with Vincent was something else; indescribable, really great."
After holding Valentino in her arms, all her plans of where she was going and who she would be as a mother were left behind.
Check out some beautiful photos of Asher and her family, from Vincent. Images via Instagram. (Post continues after gallery.)
"Whatever plans I may have had — and I really didn't have many — they went out the window because you just have to be present. You don't know what a baby is going to be like from day to day, each new stage will bring.
"… I just knew I wanted to be solid, but I also knew I wanted to be true to myself and I didn't know how it would feel. You do go, 'Oh shit', because it's incredibly discombobulating — my favourite word because it fits in so many ways."
Keddie is, like every mother, head over heels in love with her beautiful boy.
"I'm loving discovering who he is now, because he's really starting to interact with us. He's trying to talk, too. He's responding 'Yup', and was rambling away this morning, having his own conversation with the fruit bowl.
"I was pretty surprised I could [have a baby], and I think it's working out OK. He's a pretty cool little human. Just a sweet, affectionate, happy little thing who makes your feelings and choices different.
"Then he pops my phone in the toilet and cries because he's done it. He knows, even at his age; he just looked at me and went, 'Waaah', and I said, 'That's OK.' Whatever, we're away from home, my phone's broken," she laughs. "What does it matter? Only he matters. Only his happiness matters to me now."
After having her two-year break, Offspring was reborn, and now Keddie is back to work (with Valentino, of course).
"I couldn't resist. It got to the point where I thought, 'I can't resist the challenge of coming back after a two-year hiatus.' But also, I couldn't deny it excited me, and when you feel excitement about work, there's a reason for that."