Ariel Winter, 19, stars in one of the most successful sitcoms on television.
Modern Family has won 21 Primetime Emmy Awards (and has been nominated for 80) and Winter has been an integral member of the cast since the show premiered in 2009.
But a quick internet search of the popular young actress tells you nothing about her talent.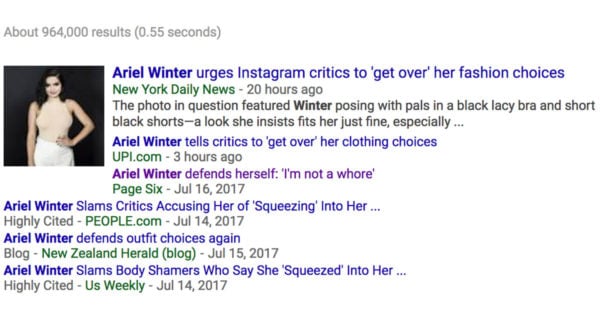 Instead, every story is focused on the star having to defend nearly every outfit she wears.
Almost every week for months, Winter has been criticised for everything from posing in a bikini next to her two young nieces to stepping out of her house without a bra to wearing a dress deemed "too fancy" on the red carpet.
Now it seems Winter has committed another "wardrobe sin," this time posting a picture on Instagram that critics say features her wearing shorts that she's had to "squeeze" into.
Thankfully, another thing Winter is known for is her outspokenness against those who seem to enjoy criticising her body and her clothes—and she's written a self-described "rant" on Twitter aimed at her critics.
"Pretty annoyed about the focus on the fact that I wear shorts, and the commentary that I'm 'squeezing' into them or the idea that it's not okay for me to wear shorts," she wrote.
Rant pic.twitter.com/ZjrK4x7qrU

— Ariel Winter (@arielwinter1) July 14, 2017
"It's SUMMER. Get over it. It's hot, I'm obviously going to wear minimal clothes," she wrote.
"I'm not going to suffer in a turtleneck to please anyone. I'm not a whore because I wear shorts and tank tops. I'm a normal girl."
She also added that she is not "squeezing" into her clothes and that her shorts fit her "just fine."
"Please leave young women alone," she added. "We're just living our lives. It's really troubling that we even have to deal with this kind of stuff nowadays.
"Please stop criticising everything everyone does!"
LISTEN: Mamamia Out Loud asks if it's ever OK to comment on someone's weight.