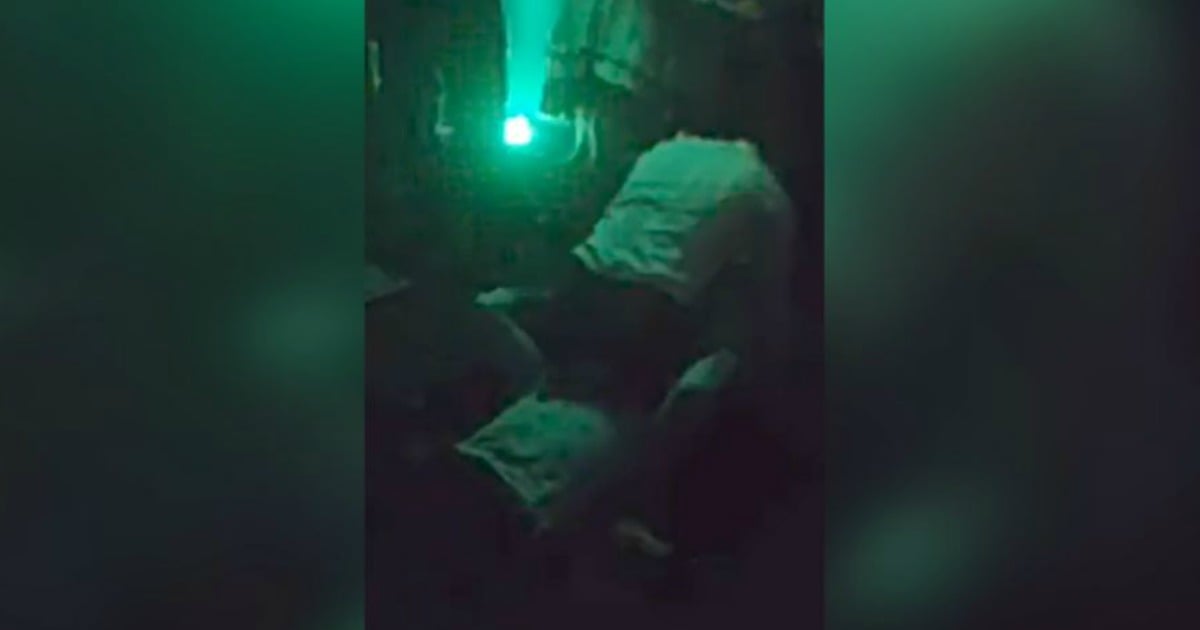 Exclusive by the National Reporting Team's Lorna Knowles
Shocking new videos showing workers being forced to simulate sex acts for not meeting sales targets have emerged as part of a $60 million class action against leading charity fundraiser Appco Group Australia.
Appco employs young sales reps, known as charity muggers or "chuggers", to raise money for some of Australia's biggest charities, as well as big name companies and utilities including Optus, AGL and Foxtel.
The company is accused of "sham contracting" — hiring workers as independent contractors rather than employees to avoid paying them the minimum wage.
It is the biggest class action of its kind in Australian history.
Lawyers have already signed up 730 claimants around the country who allege they were paid as little as $5 per hour for up to 80 hours per week.
Many also allege they were subjected to bizarre workplace humiliation rituals.
'Pseudo sexual acts'
In the latest video, filmed at an Adelaide marketing company engaged by Appco Group Australia, male workers are forced to simulate sexual acts on colleagues who failed to meet their sales targets.
Lead partner at Chamberlains Law Firm, Rory Markham, said it was the worst video he had seen so far.
"The video depicts a series of pseudo sexual acts performed on men by other men in a room's morning meeting which we're instructed was orchestrated by the managing director of that company," Mr Markham said.
The video was filmed in April 2014 at a marketing company called On Demand Sports. It is now known as Visionary Direct Enterprises.
"It's a video that can't be explained in any employment or any business context," Mr Markham said.
"No employer in Australia could get away with that sort of behaviour. It appears to be the relics of a very long lost navy ritual that we don't see in the Australian context any more".
In another video, a manager at Crossfire Marketing in Brisbane instructs young sales workers how to perform a "slug race". The video shows the workers laying face down on a meeting room floor and writhing on the ground with their arms behind their backs.
Mr Markham said it was another workplace ritual designed to punish and humiliate workers who did not meet their sales targets.
In a statement to the ABC, Appco said that in the past, some of the marketing businesses that sub-contracted its services to Appco may have conducted "motivational games" which, while well-intentioned, crossed the line into improper behaviour.
"Any such activities were conducted without the knowledge, permission or encouragement of Appco Australia," the statement said.
"These activities have now been banned and represent a breach of contract with Appco."
In the class action, due to commence in the Federal Court next month, lawyers will allege Appco used an elaborate and complex model of contracting to defeat basic employment entitlements, while also reaping the benefits and profits of running one of the country's largest marketing enterprises.
Mr Markham said the average age of claimants was 22. They had worked in the business for 44 weeks, 67 hours per week. They earned a total commission of $387 per week but then had to pay work expenses of between $60 and $140 per week.
Injustices 'need to be put right'
In a significant breakthrough for the case, one of the claimants has obtained a ruling from the Fair Work Ombudsman that he was an employee, not an independent contractor.