You've set a wedding date? Cue: Whirlwind.
Pinterest boards. Screenshots. Messages back and forth. Wish lists. Elimination tests. Trying something on. "I like the sleeves. I prefer the neckline on the other one."
It's exhausting, time-consuming and expensive. 
Thankfully, the wedding-dress-shopping-scene is transforming. A new app from US fashion label Fame and Partners allows brides-to-be to create the dress they like.
Named Wedding Atelier, it allows you to choose different fabrics, colours, fits and details to design the perfect wedding dress.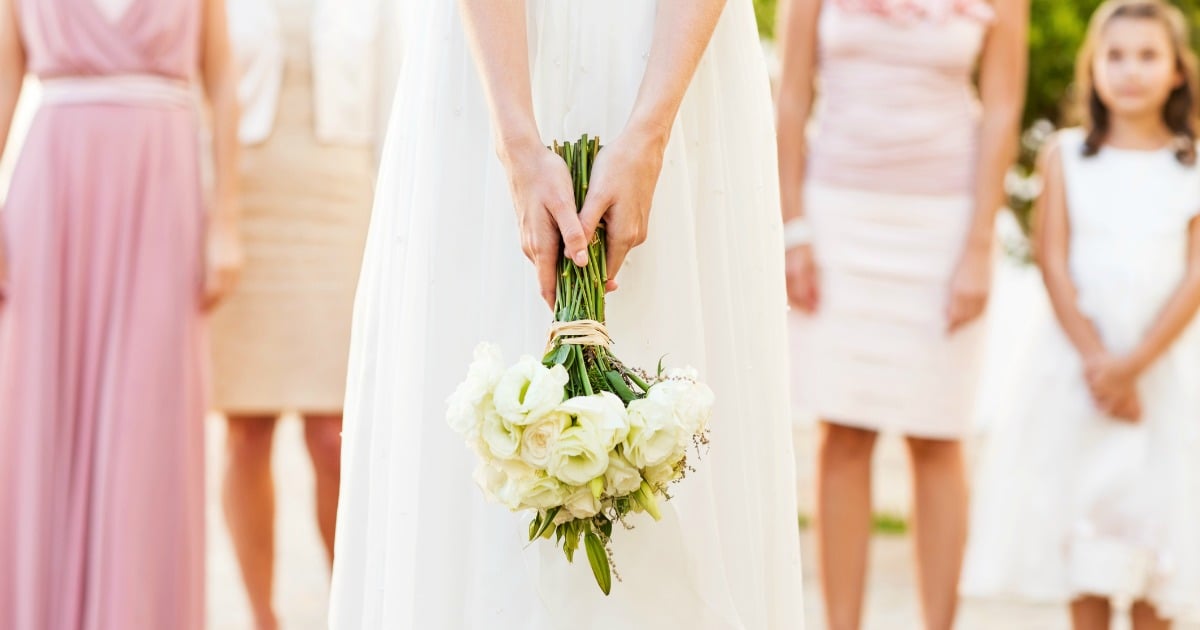 Bridesmaids dresses are also customisable and the app acts like a chat-room so you can easily discuss different options with your chosen girls.
If you're not yet convinced, there's one word for you: discounts. When the bridal party buys together, everyone saves. Not only that, the group's bespoke dresses are made-to-order and will arrive in only two weeks.
Now, I am not currently shopping for a wedding dress. Also, I'm not someone who has any idea about my future-if-ever wedding.
But, for the sake of this article, I signed up to the app to see what's possible. (For research purposes, of course.)
Listen: Why 'the 'til death do us part' aspect of weddings is over. (Post continues after audio.)

After entering my height (harsh realisation I will never be a catwalk model) and Australian dress size, I was asked to name my 'Wedding Board'. (Like Pinterest, but more productive and no recipes)
I nominated three 'bridesmaids' and I set my wedding date for April 7 2018. (It asked me to email my bridesmaids an invitation to the board, but Mondays are not good days for giving friends heart attacks. I decided to skip that step.)
It took me to my board's 'home' page where I was given the tools to chat with the bridal party, once they're invited, of course, and add details for my big day. The create-your-own-wedding dress feature is still in the works, with the tab giving me a coming soon message.
I could, however, test the dress customisation options for my bridesmaids dresses. So that's what I did.
The app is extremely easy to use. You can choose the silhouette...
Then the colour...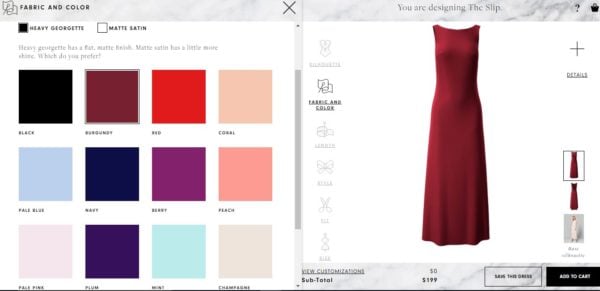 Then the length, style, fit and size... You get the drift.
You can choose to add sleeves, ruffles, a belt.
You can create a split, shorten it to a mini, or make the dresses floor-length.
The result?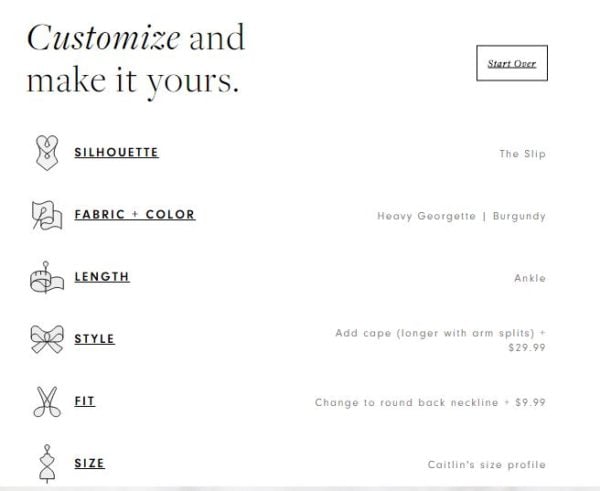 Helpfully, each bridesmaid can create their own sizing profile, which just appears like "Caitlin's size profile" as seen above.
Most incredibly? The price for the final, bespoke gown? $238.98, including all the alterations. Without the sleeveless cape and altered neckline, the dress is $199.00. 
In all, the app has more than 40,000 customisation options. Prices for wedding dresses will range from between $250 and $1,700. It's a game-changer in terms of pricing and logistics. It keep all your girlfriends, details, and dresses in the one - easy to manage - spot.
Now, just for someone to get married to... There's also, I've heard, an app for that, too.
Celebrity wedding dresses.