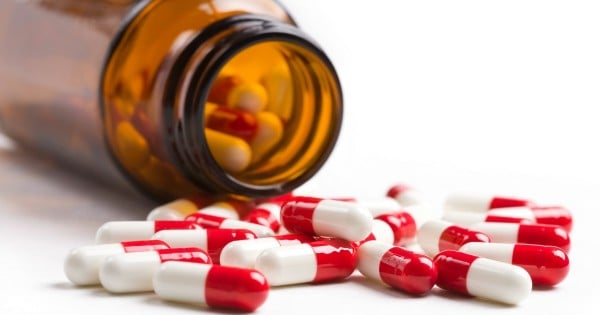 By Adam Friedman, George Washington University.
Acne is one of the most common dermatologic diseases. While best known as a bothersome part of puberty, affecting approximately 85 percent of young people, acne can persist (or even start) in adulthood, causing emotional and physical distress and sometimes permanent disfigurement.
Many people with acne will be prescribed antibiotics for treatment at some point. In fact, about five million prescriptions for oral antibiotics are written each year for the treatment of acne in the United States. While dermatologists comprise 1 percent of physicians overall, they are responsible for 5 percent of all antibiotic prescriptions written.
Even though national recommendations say that a course of antibiotics to treat acne shouldn't last more than three months, a study published in the Journal of the American Academy of Dermatology found that the average amount of time a patient is prescribed an oral antibiotic is actually over 300 days.
Antibiotics may be prescribed at higher doses than what is really needed to treat acne. While antibiotics can kill the bacteria associated with acne, it's their anti-inflammatory effects, not their antimicrobial effects, that yield the biggest skin-clearing benefits. (Post continues after video.)
The result is that the bacteria associated with acne are becoming resistant to common antibiotics – and this overuse also contributes to more harmful bacteria, like Staphlycoccus aureus and Streptococcus becoming resistant.
What is acne anyway?
Acne is a chronic inflammatory skin condition, characterized by blackheads and whiteheads (called comedones), pimples, and deeper lumps (cysts or nodules). They are caused when hair follicles are clogged with oil, bacteria and dead skins cells, and can occur on the face, neck, chest, back, shoulders and upper arms.
While once thought to be a direct result of overactive sebaceous oil glands, now we know that inflammation is the driving force behind acne. In fact, this inflammation can be seen in the skin even before a pimple pops up. And clogged follicles can also stimulate more inflammation.
The bacterium that lends its name to the condition Propionibacterium acnes, is just one of the factors that stimulates this acne-causing inflammation. (Post continues after gallery.)
Celebrities' on suffering from acne.
Hereditary and genetic factors, hormones, emotional stress and even diet can also bring on the zits. For instance, foods with a high glycemic load such as white grains (bread, rice, pasta) and sweets have been linked to acne, as they can increase oil production and skin cell turnover. This ultimately causes a backup in the pores and follicles on our skin – creating a nice environment for the inflammation-inducing P. acnes to flourish.