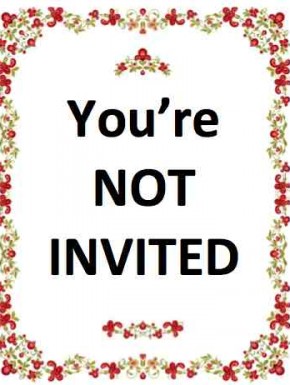 Dress? Check. Flowers? Check. Invites? Posted. Anti-invites?
Sorry…. what?
Imagine finding out your friends are getting married, only to receive a don't-save-the-date card.
Apparently it happens.
There's a new trend in weddings where happy couples send wedding announcements to the people who didn't make the cut for their invite list.
Ouch.
The trend is being described as the 'anti invite' (or a don't-save-the-date card) and a recent letter to a Slate magazine advice column confirms its existence.
This is a letter to 'Dear Prudence…'
Recently I received two separate announcements letting me know that I'm not invited to the wedding of a friend. Apparently, it's a trend for brides and grooms to tell people who didn't make the cut that they aren't going to witness the special day. (Google "How to tell someone you're not inviting them to your wedding.") I have no idea how to respond. It seems churlish to say that I'm relieved, but it's also awkward to admit my feelings were hurt. Please help.

—A Perplexed Nonwedding Guest
Awks.