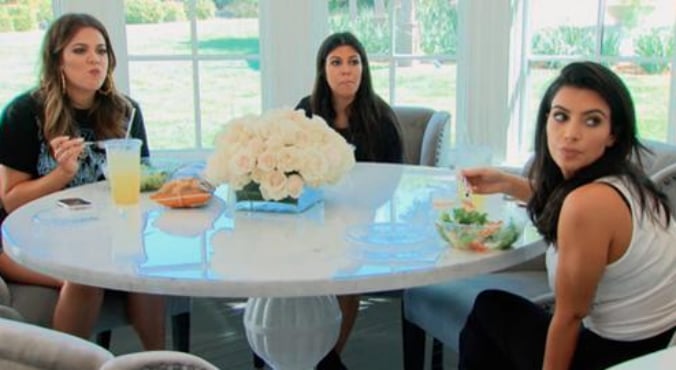 Image via Keeping Up with the Kardashians, E! Network.
Even though we know way too much about the Kardashians (remember that episode when Kim got her butthole painted silver?), they still have a way of piquing our curiosity about the smallest things.
One of the most long-enduring mysteries of Keeping Up With The Kardashians is: what is that takeaway salad they keep eating, and where can I get some? And what is that iced, yellow drink… and, most importantly, is it alcoholic?
Related: This is exactly what Kim Kardashian eats every. Single. Day.  
In countless episodes of the reality series, many sisterly arguments are fuelled by this salad. What is in this salad which causes Kim, Khloe and Kourtney to have these mundane fascinating discussions?
Kim Kardashian finally solved this culinary riddle, in one fell tweet. She named the Kardashian salad shack of choice as Health Nut, a family owned and operated café in their LA suburb of Calabasas.
And it's not just one salad that has captured the tastebuds of the Kardashian clan. Kim and her family are fans of two salads from Health Nut. There's the Chef Salad, which is sliced turkey breast, romaine and iceberg lettuce, shredded mozzarella, tomatoes, sprouts and sunflower seeds, drizzled with home-made Italian dressing.
Related: Want to be the next big beauty vlogger? Enter here.
And the Chinese Chicken Salad, with chow mein noodles, pickled ginger, and carrots on romaine and iceberg lettuce, topped with home-made sesame dressing.
That yellow, iced drink the Kardashian girls are constantly sipping is the Mango Passion Greentini, which is a bewitching combination of mango juice, green tea and honey. Sadly, there is no dash of anything interesting, such as vodka. Maybe on Fridays? (Post continues after gallery.)
Kardashians eating Health Nut salads
Although Kim is known for her expensive tastes –  allegedly splurging $15,000 on a jumping castle for daughter North's birthday party – her salad and drink choices are surprisingly affordable. The Chef Salad costs $10.75, and the Chinese Chicken Salad leaves you with change from a tenner at only $9.75.