If there's one thing we can all agree, it's that annoying plane passengers are the worst.
Whether it's your seat neighbour stealing your armrest, someone talking loudly when all you want to do is sleep, or that kid behind you kicking your seat, we all know how irritating these people are.
But what if I told you that to the flight attendant, you might be the annoying passenger? Flight attendants have dished on the most annoying passenger behaviour on Reddit, and chances are you're guilty of one or two.
Relying on them for your rubbish disposal.
Former flight attendant Inked1986 said his biggest message to passengers was to throw their own rubbish away and not rely on the cabin crew to do it for them. They advise taking any leftover rubbish with you when you leave and throwing it in the bin on the plane or the airport on your way out.
And absolutely DO NOT leave your rubbish in the seat-back pocket.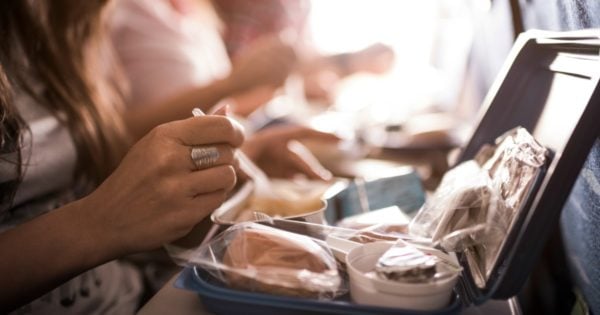 "We typically have very little time between flights to tidy up and perform a checklist of tasks and finding an unpleasant surprise tucked in those seat-back pockets is not fun."
Another Redditor said his flight attendant wife's "biggest grievance" was when people loaded up their meal tray with extra rubbish.
Talking during the safety demonstration.
Think the flight attendants don't notice when you're chatting as they're showing you the plane's safety features? Think again.
Redditor Scottler shared that they noticed who paid attention and who didn't and would be taking note in case of an emergency. Another user said it's just common courtesy to be quiet.
"If you're in the front with me while I'm demonstrating or in the back with me while I'm speaking the safety demo, please be quiet and courteous. Especially when I'm in the back and you're having a loud conversation and talking over me, it is distracting," she said.
Pressing the call button when it's not an emergency.
Apparently, that button with a picture of a flight attendant isn't there so they can be at your beck and call. Flight attendant Vlcamare told fellow Reddit users that the button is for emergencies only.
"Don't ring the call button if you want a coke. That's not why it's there," they said.
"I know it has a picture of a flight attendant with a drink but that's a fail by the airplane manufacturer."
Listen: Open plan offices are another hotbed for accidentally annoying behaviour.