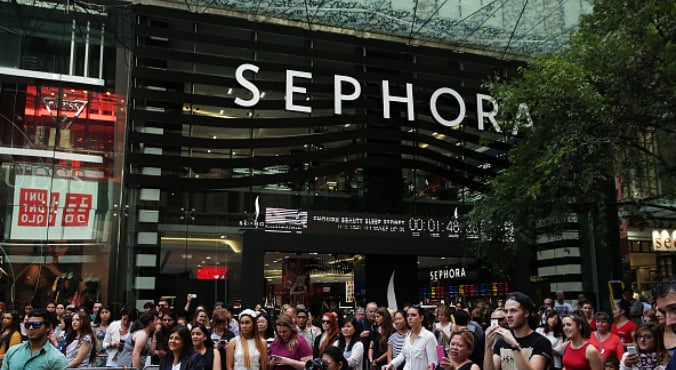 Image via Getty.
For a beauty lover, stepping into Sephora is like stepping through the gates of heaven. It's shiny, it smells amazing and most importantly it's absolutely stocked full of every beauty product you've ever dreamed about/Instagram stalked.
After years of having to go overseas to get your hands on products, last year Sydney became the lucky recipient of the brand's first Australian store. Earlier this month, a second NSW store in the Macquarie Centre was announced.
Now, Melbourne, your time has come.
RELATED: A step-by-step guide to Sephora Sydney
The beauty giant has confirmed that it will be opening its third Australian store in the heart of Melbourne, and it could be coming as soon as December.
"Melbourne has always been on our radar, it was just a matter of timing and the right location, so this has certainly been an announcement difficult to keep under wraps," says Sephora Australia country manager Libby Amelia.
The store will be opening up in Melbourne Central Shopping Centre's Shot Tower Square, right in the centre of the CBD. (Post continues after gallery.)
What you need to buy from Sephora FIRST
It means Melbournites will finally be able to get their hands on Sephora's exclusive beauty brands including Marc Jacobs Beauty, Tarte, Kat Von D, Cover FX, Nudestix, Beauty Blender, Ole Henriksen, Formula X and of course, Sephora Collection.
Other The Glow favourites include IT Cosmetics, Anastasia Beverley Hills, Percy & Reed, Obsessive Compulsive Cosmetics and Makeup For Ever.
There was some initial controversy after the Sydney opening, with fans disappointed that Sephora did not live up to its promise of matching the US prices (plus shipping and GST) on brands exclusive to the store, with speculation this was due to the high cost of rent.
RELATED: Going to Sephora for the first time? Here's what you need to buy first.
Nevertheless, it hasn't stopped hundreds of thousands of eager beauty lovers visiting the store, or it seems, the excitement for Melbourne-dwellers.
For those living outside of Victoria and NSW, don't worry – they haven't forgotten about you either.
"Sephora will continue to expand to other Australian cities outside of Sydney and Melbourne. We do recognise there is huge demand from beauty lovers across the nations," says Ms Amelia.