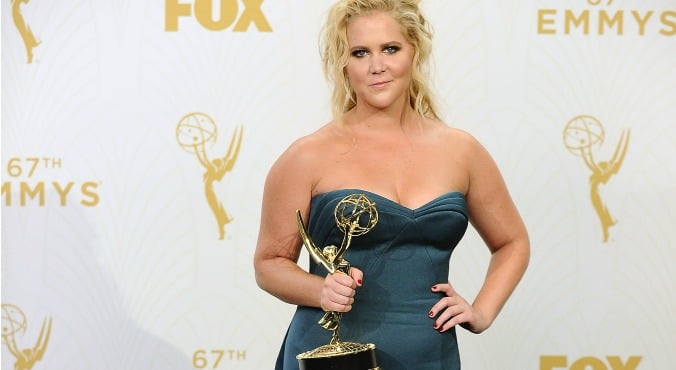 Amy Schumer, who famously once said, "I'm 160 pounds and I can catch a dick whenever I want," has questioned her inclusion in Glamour Magazine's annual plus-size issue.
In an Instagram post she writes, "Plus size is considered size 16 in America. I go between a size 6 and an 8. @glamourmag put me in their plus size only issue without asking or letting me know and it doesn't feel right to me. Young girls seeing my body type thinking that is plus size? What are your thoughts? Mine are not cool glamour not glamourous."
It's useful at this point to do a couple of things.
First, I thought it would be helpful to take a look at a sizing conversion chart, because US sizing is very different to Australian

And I thought it would also be helpful to work out what we mean when we say plus size.
Turns out that's harder than you would think. After consulting several confusing sources and wading though a lot of material that skirts around the issue, I asked Chelsea Bonner, Director of plus size modelling agency BELLA Management, what does plus size mean?
"The technical term for a plus size model is anyone sized 10+ in Australia and 8+ in the US. Which I totally agree is ridiculous! The Technical term for plus size fashion garments means over a size 14 in Australia and the US. That's why we are seeing a division now between 'curve' models ( size 10 -14) and plus models ( size 14 plus)."
And if you take a straw poll of your friends like I did, they'll tell you that that plus size is likely to be anything above a size 16 to 18 (Australian).
This is not earth shattering stuff, but here's the biggest problem in a long line of issues with Glamour magazine's plus size edition.
The definition of plus size in the modelling industry is wildly out of step with what the community thinks is plus size.
Not that being plus size is a bad thing. It's not a bad thing, nor is it a good thing. It's just a thing. 'Plus size' or 'curve size' or 'fashion model size' are just size descriptions. They're not value judgements about the person who might fit one descriptor or another.
That being said Amy Schumer is absolutely right to question her inclusion in a magazine's plus size issue. Amy Schumer would be defined as plus size if she was a model, yes. But I wouldn't define her as plus size, the community wouldn't define her as plus size and she doesn't define herself as plus size.
While I worry that comparing body to body is at best unhelpful for women generally and at worst dangerous for women who might be feeling vulnerable, it does say something that in a sea of bodies on a Hollywood red carpet, Amy Schumer's size 10 frame stands out.
But more than that, folks. Why would Glamour even have a plus size issue at all? Can we not just incorporate women of all sizes and shapes into ever issue and broaden the standard of beauty generally?
Could we not celebrate Amy Schumer, Melissa McCarthy and Guilana Rancic as women of Hollywood? Just that, plain and simple.
Chelsea Bonner says that in an ideal world, we would. "But, as we have still not fully integrated with our smaller sisters in terms of the fashion and media industries the only way to highlight the achievements of models over a size 10 in the media seems to be to categorise them. I have to wonder if our models would get a look in at all otherwise, as much as I hate it.
"I am hopeful that in the future we won't see any kind of body comparison magazine issues at all plus size or otherwise! I'd like to see womens achievement issues! Funniest women is the issue Amy should be categorised into if at all!"
Ain't that the truth.
Watching Mamamia's Monique Bowley interview Amy Schumer is also pretty funny. Enjoy.