Forget the Hollywood tape, the bobby pins and those weird squishy soles you put in your high heels to make them more comfortable: Amy Schumer knows the real MVP of any red carpet.
When asked that inevitable 'Who are you wearing?' (insert eye roll here) question at the Emmys 2016, comedian Amy Schumer gave an unexpected, yet hilarious, response.
(OK, it wasn't really that unexpected…it is Amy Schumer, after all).
"[I'm wearing] Vivienne Westwood, Tom Ford shoes…and an O.B. tampon!" she cheered.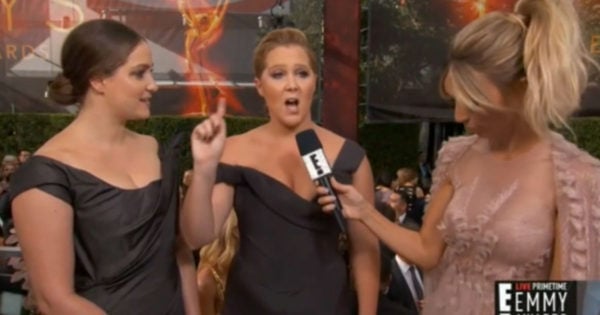 It probably wasn't the answer Giuliana Rancic was expecting, but, hey, when it comes to Amy Schumer we've all learned that we should expect the unexpected.
And, we all know that standard red carpet question is tired, unoriginal and super sexist. So let's mix it up a bit, shall we?
The 35-year-old is up for six awards at the biggest television awards of 2016, including Outstanding Lead Actress in a Comedy Series, and Outstanding Writing for a Variety Series.
Oh and also "Most Honest Celebrity on the Red Carpet...Ever", an award we totally just invented but should totally already exist.
See all the best dressers from the Emmys, 2016. 
Emmy Awards 2016 red carpet.