Last week, as I was walking down a busy city street adorned with posters that looked as though they'd been sprawled there illegally, I was struck by one particular image.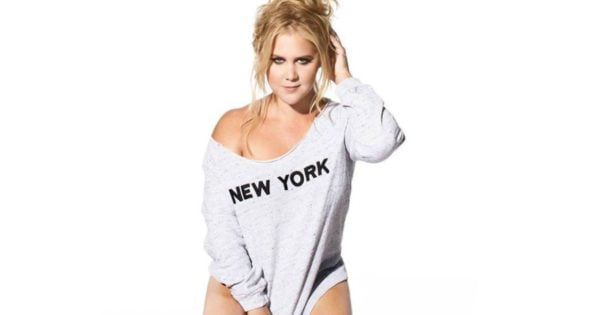 It was an advertisement for Schumer's latest show in Australia, which has since been cancelled.
I stared at it for a moment, with my head tilted slightly to the right, in much the same way as a dog who is bamboozled by a disappearing and reappearing lizard.
Before me was an image of one of the most successful female comedians in history. A 35-year-old who has written a New York Times bestselling book. An actress, producer and multiple Emmy Award winner.
One of Time magazines 2015 top 100 Most Influential People.
And in the poster for her stand up show, Schumer looks like she could be on the cover of Playboy.
The sex hair. The 'come-get-me' gaze. The lack of pants.
She is one of the world's funniest women. Is sex really still her currency?
Mia Freedman, Monique Bowley and I discussed Amy Schumer on this week's episode of Mamamia Out Loud. Post continues below.
Amy Schumer can look like a walking contradiction.
She's said that in LA her arms register as legs, and that body image has been "a struggle for me my whole life", whilst simultaneously stating that she feels "very comfortable in [her] own skin..."