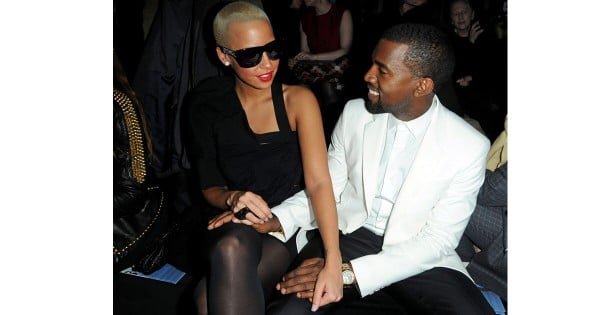 Kanye West, 38, came out of yesterday's Twitter tiff with Wiz Khalifa looking like a right dunce.
Not only did he lose major cred by being unaware of a slang term for weed, he got completely owned by his ex-girlfriend Amber Rose, 32, who took him down with just one tweet.
Amber Rose, on the other hand, is having rather a good week.
Awww @kanyewest are u mad I'm not around to play in ur asshole anymore? #FingersInTheBootyAssBitch☝

— Amber Rose (@DaRealAmberRose) January 27, 2016
She came out on top in the Kanye fracas, probably gaining a couple of million Twitter followers in the process; she wrote an op ed in Time about not caring what other people (such as Kanye West) think of her; and she went on the Allegedly pop culture podcast to give her perspective on the incident.
"I would never talk about kids in an argument," she told hosts Matthew Cole Weiss and Theo Von of West, referring to Kanye's claim that he "owns" her son.
"It just shows the type of person he is. Even him saying stuff about my son, I still didn't say anything about his kids. I'm not going to. This is ridiculous. They're innocent babies. You don't ever, ever talk about a baby, ever."
West's long and bewildering procession of 140 character proclamations has now been deleted, but it's not forgotten (especially since we screen-grabbed a load of them).