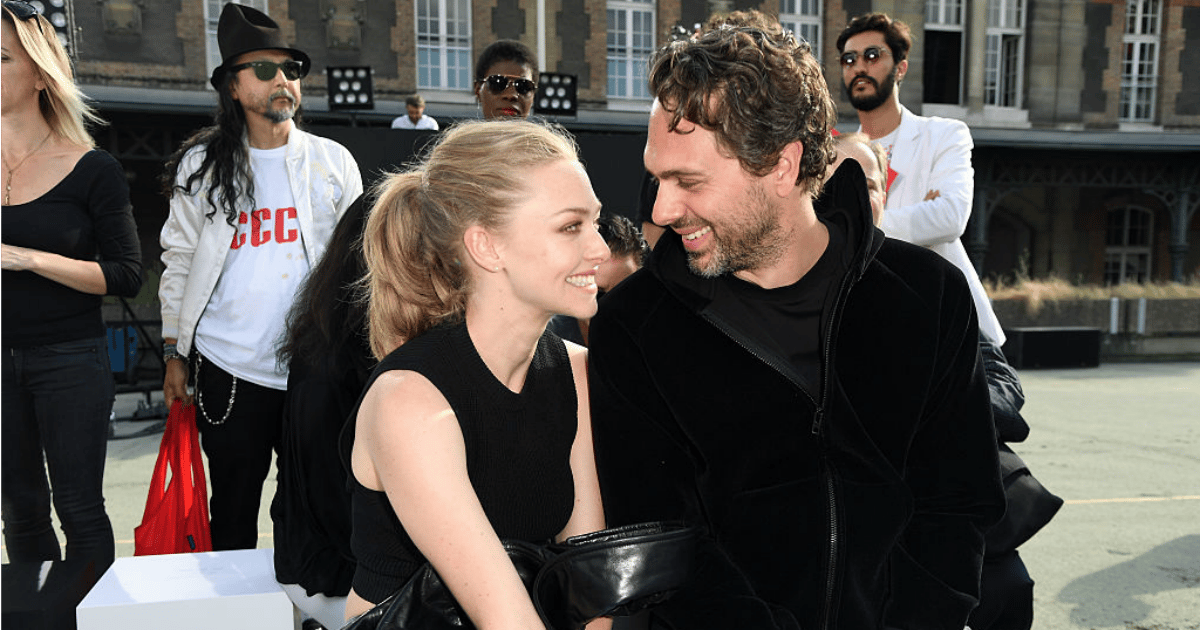 Amanda Seyfried became engaged to her long-term boyfriend, actor Thomas Sadoski earlier this month – and we finally got a glimpse of her bling.
It's dainty, delicate and everything we did not expect from a celebrity who could definitely afford several carats.
The fine gold band is super simple, without any diamonds or stones – an usual choice for Thomas, who's skirted the usual Hollywood trend of flashy diamonds and rocks the size of golf balls.
Our opinion? It's gorgeous.
Can you spot it?
The fine gold ring looks more like a wedding band than an engagement ring – is she trying to give us a hint?
But the Ted 2 actress isn't alone, joining another celebrity rejecting the idea of enormous and wildly expensive engagement rings.
Earlier this year, Mila Kunis admitted that her simple wedding bands with husband Ashton Kutcher actually cost her just $120 (AUD) from online store, Etsy.
33-year-old Mila discussed her cheapie wedding ring on Conan O'Brien, saying that whilst she loved her "stunning, stunning stunning" engagement ring from Ashton, she was less inclined to wear it; whilst her simple wedding band never comes off. (Little wonder, her sapphire engagement ring is priced at over $250,000….)
"My engagement ring is beautiful, but I don't ever wear it," said Mila. "This ring, I'm like, 'It's $90!' It's great. That person on Etsy had no clue whose ring they were making, but they were wonderful and very nice and polite and generous."
Clearly, it makes sense to reduce your stress levels and not walk around town with the price of a small house on your left hand…
For the non-celebrities out there – AKA you and me – it's refreshing to see some of the world's richest people opting out of million-dollar bling, and going for something more humble.
Mamamia Outloud: How much should you put in a wedding wishing well? (Post continues after video)

I mean, shall we take a look at some of the more outrageous bling from Hollywood in recent years?
There's Kim Kardashian's $1.6 million dollar bauble from Kanye West (she now has two).
Singer Ciara's cushion-cut $2 million sparkler from Russell Wilson:
Of course, there's Blake Lively's enormous light pink diamond from Ryan Reynolds – coming in at a cool $2 million.
So we say – good on you, Amanda and Thomas. Nice work staying humble in the flashiest biz on the planet.
You guys are the kind of #couplegoals we like to see.
The most memorable weddings in pop culture