It's been 18 months since my Mum was diagnosed with Early Onset Alzheimer's Disease at the age of 59. Eighteen months since my sister, father and I were told that what had originally been diagnosed as anxiety, depression and a touch of Post-Traumatic Stress Disorder was actually far more insidious, and unfortunately far more permanent.
The woman that we love so much is, in many ways, gone. Mum was a highly sociable, active, warm, and interesting woman. She was the kind of woman who was always the life of the conversation, telling stories that would make everyone around a table dissolve into laughter, and always have a kind word for a stranger – every skill I have in the realm of emotional intelligence, I owe to her.
She was a successful, highly intelligent, professional woman. Now, sadly, she can't concentrate for long periods, gets confused and disoriented easily, is unable to remember many things (including her own daughter's surname) and needs to be taken to the bathroom because she'll get lost trying to find it. She sits quietly in her own world and doesn't tell stories anymore.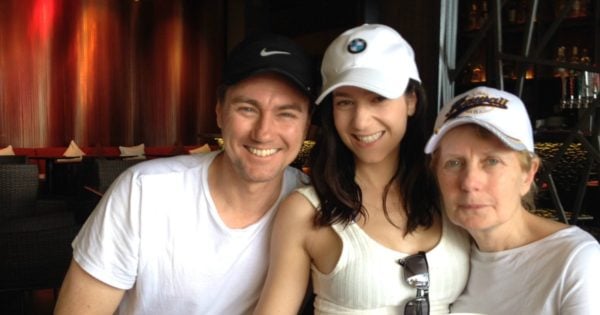 It takes a lot to make her laugh. She grasps for words, isn't as warm and loving towards us, makes a lot of spelling errors when she writes text messages – which would mortify her if she could realise, as she was an English teacher – and has lost some of her inhibitions. Her only outing each weekday is to the same coffee shop down the road, by herself.
I know I should be thankful that she's still with us and that occasionally we get to glimpse the 'old Mum'. Many children are robbed of a parent at a much younger age than my 31 years, and without the chance to say goodbye. In some ways, yes, I'm lucky. But with Alzheimer's you grieve twice – for the person they were before the disease took hold, and then, later, all over again when they pass away.