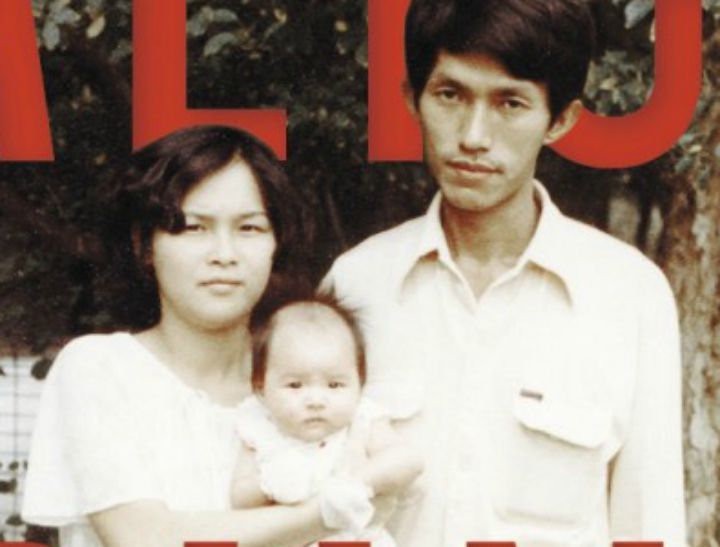 In a new book On Happiness: New Ideas for the Twenty-First Century, Alice Pung writes on the hope that we can muster when we suffer a catastrophe.
'Doctor, I ate one of those creatures', my grandmother blurted out one day at our doctor's office in suburban Melbourne, pointing to a chiropractic poster on the wall, 'We ate them when we were starving'.
Granny was in her eighties at this time, a survivor of revolution in China and then the Killing Fields of Cambodia. Her mind was still as sharp as a digital photograph, but her eyesight was not as clear as it once was. My father, aunty and I looked at the chart, alarmed and embarrassed.
'Mother, that's a spine!' laughed my aunty.
'Huh? But we ate creatures that looked exactly like that', my grandmother protested.
'That's a picture of a human spine on its side', explained my father, 'What you're thinking of are centipedes'.
'Yes. That's right, centipedes', mused my aunty, 'Come to think of it, they do look a lot like that picture up there on your wall, doctor'.
I waited for what usually happened when granny made such admissions. I waited for her to list to our good doctor all the things they ate while they were starving: crickets, scorpions, rodents, even my father's leather belt, which they cut into small pieces and boiled for hours on end in secret, to tenderise it. I waited for them to laugh about all this – this secret joke of shared experience – while the doctor and I watched in wonder.
I had always known that my father survived the Killing Fields of Cambodia. I'd grown up with adults around me talking incessantly of the Black Bandits, which is what they called their captors, the Khmer Rouge soldiers who dressed in black, because colour was banned. I knew how this story ended, because it always ended on a good note. What five-year-old could fail to be enamoured of a story that culminated in her own birth? Manufactured in a Thai refugee camp, but assembled in Australia with Chinese parts, I was named Alice after the Alice in Wonderland, because my father thought this country was one.
My parents taught me not to cry when I had to get immunisations, not through fear or the promise of lollies, but through their own stoicism. They talked about human backbone and starvation diets as if they were everyday memories – for them, these things were just as ordinary as remembering the 1977 Rugby World Cup, finding out about Elvis' death or listening to ABBA songs were for everyday Australians during that time.
They never spoke about their experiences to shock strangers or endear themselves to sympathetic ears. They never spoke about them to anyone outside our family unless asked, or if my grandmother blurted revelations out at doctors' offices. 'Remember Needle?' my mother might say to my father over dinner one evening, 'Remember how talented she was with a sewing machine? She could just look at an outfit and then go to the New Market, find the cloth, and copy it exactly'.
'Too bad she was smashed', my father would say, and they would both sigh and continue eating dinner.
Yet my father did not seem to be burdened by his past. He didn't understand what post-traumatic stress disorder was, or survivor's guilt. Those were feelings for people who had time to feel feelings instead of getting down to work and making the most of this miraculous new life, this life after seeing death so close. So he named me Alice, and then the rest of my siblings followed suit with the first letter of the alphabet: Alexander, Alison, Alina.
When cousins started to arrive from overseas or were born here, they too were given 'A' names: Angelina, Angel, Anderson, Amanda, Amara. It didn't matter what part of Asia or Southeast Asia they had come from, they too were going to fulfil this narrative of new beginnings.
My father bought me watercolours and charcoals from a real artists' supply store, not children's crayolas and textas. He wanted me to make art in my life, not just scribbles. He also made us toys. He knew how to make Clag, play dough, and apples out of balloons. He taught me how to do calligraphy. For too long, his life had been bereft of culture and art. But my favourite toy was the egg roly poly. He would hollow out a raw egg, fill it halfway with wax, and draw a face on it with a pen. Every time you knocked the roly poly over, it would sway from side to side before standing back upright. You could never knock it down unless you smashed it.
It reminded me of my father's resilience.
So when I began writing my book about my father six years ago, I understood the gravitas of the task of interviewing him about his experiences in Cambodia.
He had survived one of the most far-reaching experiments in social engineering of the last century, Pol Pot's Year Zero, a regime as literal as it sounds. Pol Pot named himself after the phrase 'Political Potential' and he decided that in order to implement a pure Marxist regime and efface all traces of the traitorous modern world, he had to drag time back to Year Zero. The French had attempted a similar thing, calling the first day of their new post-revolutionary regime in 1789 Year One; Pol Pot took it one step further.