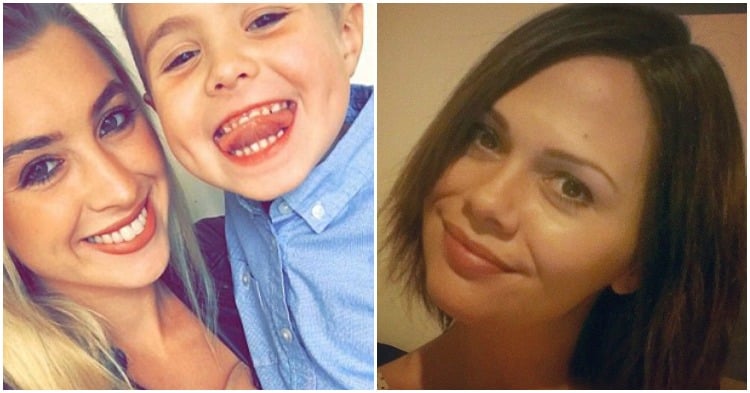 Just days after a series of hurtful comments were launched on social media, more swipes have been taken at Alex Nation by her former sister-in-law.
Commenting on an Instagram photo posted by Ashy Smith – the girlfriend of Nation's ex-husband Joel Porter –  Nation's former sister-in-law Kimberly Grace wrote, "I am so relieved my nephew finally has a loving, attentive, maternal figure at home."
Ashy Smith and Nation's son, Elijah. Post continues… 
Grace then mentioned Nation's young son Elijah, saying, "'That kid has a fiercely protective family, & someone insincere would never get our tick of approval… We know & love you Ash… You know you're in the circle of trust."
Responding to Grace's comment, Smith wrote, "I would never want to be seen that I'm treading on toes! Elijah already has a mum that loves him and he loves her. My main priority is to love and protect him, and to give him another positive role model in his life. I just want to provide a safe haven and bubble where he's living a normal life doing fun kids things with not a concern in the world and is completely unaware of what else is going on!"
Ashy, Joel and Elijah. Post continues… 
Appearing on the 2016 season of The Bachelor earlier this year, Nation spoke often about her son and the realities of being a single mother to Richie Strahan and other women inside the house. But according to Porter's family, Nation is not all that she says when it comes to parenting and has been dogged by negative comments from both the family and fans of the show since the show aired.
But 25-year-old Nation proved her power when she was asked about the family dramas, telling The Daily Mail, "Ash is a great girl. It's disappointing that there's stuff out there like that."
Elijah and Alex. Post continues… 
The aspiring model also said she was happy for Smith to be in her son's life, as it was clear she was "a good role model.
"My little boy is everything to me," she said, adding, "I know who I am and I know what kind of mother I am."
Ah families. You can't live with 'em, can't live without 'em.
For more Bachy talk listen to Bach Chat, the podcast to listen to after the show.