Making fun of Donald Trump is kind of like shooting fish in a barrel at this point, but there's just something so perfect about the way in which Alec Baldwin and the Saturday Night Live team does it.
Returning to his orange-faced mogul character after yet another damning audio leak over the weekend, Baldwin took on Donald Trump's now scrambling position as he tries to redeem his legitimacy as a presidential candidate.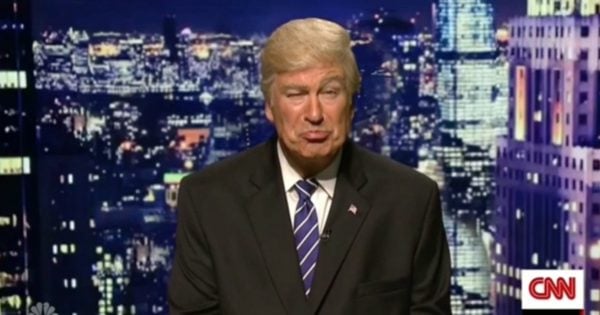 Alec Baldwin as Donald Trump. Source: NBC. 
The 2005 leaked tape - in which Trump can be heard saying that when you're a star you can "do whatever you want" to women, like "grab them by the p*ssy"  - has cast an even dark shadow over Trump's campaign in the days that followed, with many Republicans dropping support and publicly condemning him.
But morphing back into "The Donald" just one week after his debut appearance, Baldwin delivered yet another eye-watering performance.
Alec Baldwin's Donald Trump explains why women should still vote for him. Post continues... 
Puckering incessantly and delivering apologies (pronounced apple-oh-gees) to those he had offended, Baldwin claimed:
"Are you not entertained?" Baldwin asked the comedian playing a news anchor, Cecily Strong."What I am doing is apple-a-gising to all the people who were offended by my statements. But more importantly, to the people who were turned on by them. I hear it's really 50/50," he said before asking women to give him another chance.